Return to Headlines
Cleveland School of the Arts student wins chess tournament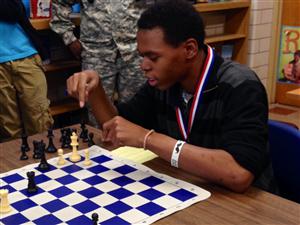 Jamal Gibson, a junior at Cleveland School of the Arts, won the top prize Monday afternoon in the District chess championship at Max Hayes High School, ending a day of intense competition among dozens of players from elementary school through high school.
Retired CMSD mathematics teacher Ken Fiore, who has been running the District tournament for more than three decades, said the battles on the boards were fierce and provided evidence of the skill of players from across the system.
"What they should learn from chess is a sort of mental organization, and it's all out there in the open if you can figure it out," Fiore said as he moved about the room encouraging players and checking scores. "People who play chess have to organize their thoughts, or they won't be successful in the game.
Chess also encourages what educators like to call "cross-disciplinary" skills, said Fiore and Lynn Furman, coordinator of Athletics & Student Activities for the District.
"It isn't as highly mathematical as people think," Fiore said. "Sometimes it's intuitive, but you have to have thinking skills, and many studies have shown that people who play chess do better in school."
Furman said chess is important because it teaches specific values and thinking.
"One of the most imporant values is to be patient," she said. "You always have to think ahead because there are consequences, and that analytical thinking transfers into all of their academic subjects."
Jamal said he picked up analytical thinking first from his father.
"I started playing chess with my father when I was about five," he said. "I like it because it's a strategy game and it's basically mind power. ... It's hard thinking, and I like it because it makes me do that hard thinking."
Furman said a list of all the winners in various age groups will be released soon.