Return to Headlines
NAEP scores provide baseline for measuring Cleveland Plan success
CMSD NEWS BUREAU
Wednesday, 12/18/13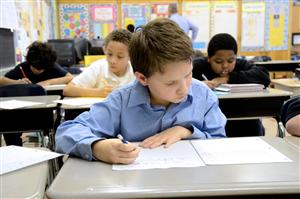 The scores that CMSD fourth- and eighth-graders have achieved on national reading and math tests remain
flat, but historic reforms brought about by
The Cleveland Plan
and an influx of resources from the District's first new operating levy in 16 years have laid a foundation for growth, Chief Executive Officer Eric Gordon said.
The District's scores on the biennial
National Assessment of Educational Progress
are still low when compared with public schools as a whole and 20 other big-city systems that voluntarily participate in the Trial Urban District Assessment, according to a report released Wednesday by the National Center for Education Statistics.
But Gordon anticipates improvement as the District forges ahead with the additional instruction time and more rigorous evaluation of principals and teachers -- allowed under a new collective-bargaining agreement -- greater autonomy for individual schools in hiring and budgeting, expanded access to preschool, an intensive focus on low-performing schools and more school choices for families. The four-year, 15-mill levy has helped by ending cycles of massive layoffs and spending cuts.
Gordon noted that the NAEP was administered last February, before many Cleveland Plan reforms got under way, but he said CMSD's history of flat scores on the math and reading tests since the District began participating in 2003 demonstrates the urgent need for change. He said the NAEP -- also known as the Nation's Report Card -- provides a solid baseline for comparison because, unlike the Ohio graduation and achievement tests, it is not expected to undergo major alterations.
"We recognize the problem," Gordon said. "That's why we're doing what we're doing."
CMSD has embarked on "some of the most far-reaching reforms of any major city school system in the nation," said Michael Casserly, executive director of the Council of the Great City Schools, which represents urban districts. Cleveland's schools are following the lead of Boston and Washington, D.C., systems that saw gains after a period of major change, he said in a prepared statement.
"Results may not come overnight," Casserly wrote, "but the sense of urgency and forward thinking of Cleveland's school leadership should produce considerable optimism on the part of parents and the community that their public schools will take center stage in the city's revitalization."
CMSD's NAEP results, which classify students as advanced, proficient, basic or below basic, rank the District equal to or above only Detroit in the group that makes up the Trial Urban District Assessement. In some cases, the scores are comparable to those in systems like Milwaukee, Fresno, Calif., and Washington, D.C.
But the results should be kept in perspective, said Russell C. Brown, deputy chief of research, assessment, data and accountability.
The gap between CMSD and other public schools narrows when poverty is taken into account, Brown said. He also said that CMSD's numbers have held steady despite a large increase in the percentages of students enrolled in special education and English Language Learner programs.
As enrollment declined over the last 10 years, families with children in the two categories remained behind to take advantage of the District's large-scale programs. As a result, the proportion of students in special education soared from 12 percent to 22 percent, and those taking English as a second language doubled from 4 percent to 8 percent. Some students fall into both groups.
The NAEP governing board did not push for widespread inclusion of special-education students and English Language Learners until this year's test. But CMSD voluntarily began letting most of the students participate with the 2011 test, providing a solid baseline to use in gauging progress of reform that was to come.
"You want to know how these kids are doing," said Brown, who has spoken about the District's inclusion policy at national conferences. "You want to hold everyone to a high standard."
Brown said the NAEP makes fewer accommodations for special-education students and English Language Learners than other tests. For example, the students can get extended time to respond to questions but cannot have questions and answers read to them as on other tests.
He added that NAEP is more demanding than other achievement tests. A rating of basic on NAEP is the equivalent of proficient on the Ohio Achievement Assessment, he said.