Return to Headlines
CMSD, partners stress importance of college-aid form
CMSD NEWS BUREAU
Thursday, 1/6/14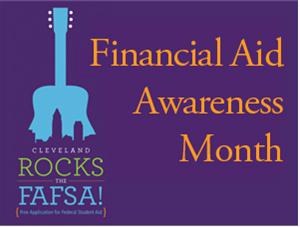 CMSD and its partners in the
Higher Education Compact of Greater Cleveland
are celebrating Financial Aid Awareness Month and calling attention to the importance of having students fill out the Free Application for Federal Student Aid, or FAFSA.
Mayor Frank G. Jackson and schools Chief Executive Officer Eric S. Gordon were to kick off the month with an event Tuesday, Jan. 7 at Cleveland City Hall. The event has been canceled because of severely cold weather.
The District and the Higher Education Compact are conducting a campaign under the theme, "Cleveland Rocks the FAFSA!"
Completing the FAFSA is critical for students who plan to pursue postsecondary education. Students must complete the application to obtain federal financial aid; many colleges and universities also use the FAFSA to determine what a student will receive from the school or the state.

Students should complete the application by February to get priority in work-study and institutional aid, said Maggie McGrath, project director for the Higher Education Compact.

The compact is promoting sessions at which students and their families can receive help filling out the FAFSA. The schedule can be found here.

On Feb. 8, "Super Refund Saturday," families can receive assistance with both the FAFSA and their income-tax returns, information that is used in determing aid. Sessions are scheduled that day from 9 a.m. to 3 p.m. at St. Ignatius High School, 1911 W. 30th St., and 10 a.m. to noon at the Cuyahoga County Public Library's Brooklyn Branch, 4480 Ridge Rd., Brooklyn.

The group also conducted a contest to get CMSD high school students signed up for personal identification numbers required in the FAFSA application process. The students at Jane Addams Business Careers Center, John Adams, Whitney M. Young Leadership Academy and New Tech West at Max S. Hayes won tickets to a Cavaliers game.

The mayor launched the compact in 2011 to increase the number of CMSD students who graduate from high school and enroll in postsecondary education. By 2018, almost two-thirds of Ohio's jobs will require postsecondary education, according to an estimate from Georgetown University's Center for Education and the Workforce.
According to a report that the compact released last month, 53 percent of the students in the CMSD Class of 2013 completed at least one college admissions application, up from 50 percent the previous year. But the proportion who submitted a FAFSA declined from 59 percent to 57 percent.
For more information on the Higher Education Compact of Greater Cleveland, go to http://highereducationcompact.org
To complete a FAFSA go to https://fafsa.ed.gov

College Now Greater Cleveland, formerly Cleveland Scholarship Programs, helps students prepare for college, obtain aid and graduate. For more information, go to http://www.collegenowgc.org