Return to Headlines
Benjamin Franklin cafeteria gets a colorful makeover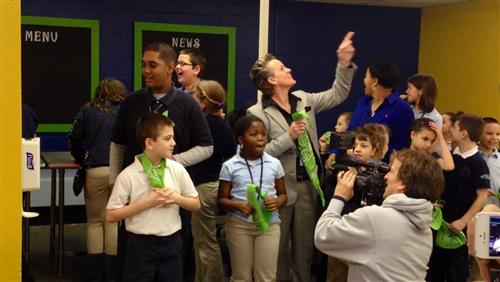 CMSD NEWS BUREAU
1/21/2014
They used to call the Benjamin Franklin School cafeteria "The Dungeon."
But the onetime bomb shelter of a basement lunchroom was transformed during the long Martin Luther King Day weekend. (See video on our Facebook page)
Now what was once a dark and dingy old cellar is a warm, welcoming and bright space that dazzled many of the nearly 600 students Tuesday at the elementary school in Cleveland's Old Brooklyn neighborhood.
The "Love for the Lunchroom" makeover was made possible by a donation by ShurTech, the Akron-based makers of Frog Tape, a type of masking tape used in painting. A broadcast of the lunchroom makeover is expected on website, Frogtape.com
About 30 of students were blindfolded and led into the refurbished lunchroom Tuesday morning by celebrity hosts Taniya Nayak of HGTV and Tom Bury, the construction manager for "Restaurant Impossible." The rest of the student body followed in shifts.
"Are you ready? You are? Then let's go!" Bury shouted as he led the first group of students from the first-floor gym down to the basement lunchroom.
Bury and Nayak blindfolded the students and led them into the room, already packed with local media, school officials and representatives from ShurTech.
A collective gasp came out when the blindfolds came off.
"Wow, this is amazing," one girl said.
"I'm going to sit right here every day," another boy said, pulling up to one of the high stools at a table wrapped around the pillars in the center of the room, now painted in the school colors of yellow and blue.
School Principal Kimberly Cantwell walked around the room with students and took it all in.
"The building was built in 1923, so this actually was a bomb shelter in here," she said. "I had seen some sketches, so I know some of what they were planning, but this is really great. We're privileged to have this."
The $10,000 makeover included a fresh coat of paint, a recycling area, inspirational art work on the walls, an area featuring clocks from 12 different time zones and new seating areas around the pillars, although the original lunch tables were kept.
"I love the clocks, that's so cool," a sixth-grade girl said. "You can see what time it is all over the world right here in our lunchroom."