Return to Headlines
Parent University college bus tours start Feb. 20
CMSD NEWS BUREAU
2/12/2014

The bus is fired up and ready to go: CMSD's College Bus Tours begin again Feb. 20.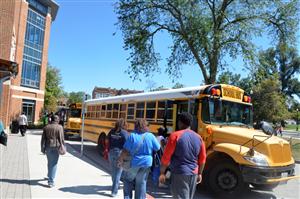 Cleveland schools students, from eighth-graders to seniors, will visit eight campuses this winter and spring, starting Feb. 20 with a trip to Bowling Green and ending April 17 with a trip to the University of Cincinnati.
The tours, part of the District's Parent University, are designed to expose urban students to college life and inspire them to continue on to higher education after graduation, said Richaun N. Bunton, program manager of family and community engagement for the District. Parents and guardians go along on the tours as chaperones.
"College can become a reality, something more solid and concrete for these students, even though no one in their family or their parents may have gone to college," Bunton said. "And it helps the parents, who may have no idea of how to handle the FAFSA (Free Application for Federal Student Aid) or what their children have to face when they actually arrive on a campus.
"It's a practical program and we really give them a lot of information, but it's also all about inspiration. We want to spark something in our students as early as possible."
That spark, it turns out, may also fire up the parents and guardians.
Sharon Irby, a mother of five who had just earned her GED, made a CMSD college bus tour in the spring of 2013.In Irby's case, the trip inspired her to go back to school and take classes on her own last fall for the first time in more than 20 years.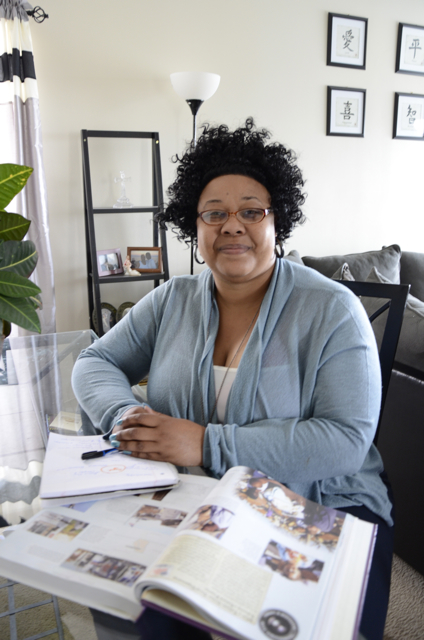 Irby fulfilled a promise to herself that she would graduate from high school before turning 40 in May 2013. Then she agreed to go along on the bus tour to Cuyahoga Community College "really just to support the other parents and students on the trip."
With five daughters ages 7 to 21, she said she had been "distracted with all of the things of life for a busy mom" since she dropped out of West Tech High School at the age of 16 more than two decades ago.
"It's been kind of a long journey, but I knew I wanted to graduate high school with the GED, and then the college idea came out of that bus trip," she said. "Now both my oldest and my youngest, at age 7, are both talking about college, so something good is definitely coming out of this."
Irby enrolled at Tri-C aiming for a degree in hospitality management, lodging and tourism with a certification in event planning.
"It's a challenge, but I can see it more clearly now after first getting the idea on the bus tour," she said.
The bus tour schedule:
Bowling Green State University 2/20/14
Wright State University 3/1/14
Eastern Michigan University 3/8/14
Ohio State University-Mansfield Campus 3/27/14
University of Cincinnati 4/17/14