Return to Headlines
Investment school meetings begin
2/10/2014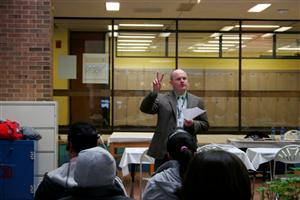 Principal Keruski
Luis Munoz Marin K-8 School has taken a big step toward reform by improving the school culture, Principal Jeffery Keruski told parents at a meeting Monday morning.
At Luis Munoz Marin, students have recorded gains in achievement when scores on December assessments are compared with results of assessments given at the beginning of the school year and a state test administered last spring.
The school's report
also touts a major reduction in disciplinary problems and a sharp increase in parent and community participation.
"We no longer refer to our students as students -- they are scholars. We are not just changing the way we look at them, but the way they look at themselves," Keruski told more than 20 parents. The school, located on Castle Avenue on the West Side, has a large Hispanic enrollment, and some in the audience wore headsets so they could listen to translations.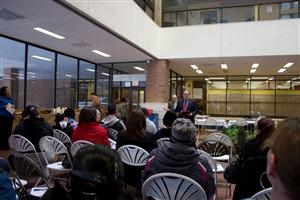 CEO Eric Gordon
CMSD Chief Executive Officer Eric Gordon stressed the urgency of reform unfolding throughout the District, noting that high school students will take the Ohio Graduation Test in less than three weeks and students at Luis Munoz Marin and other elementary schools will take the Ohio Achievement Assessment in April. He added that only 1,001 days remained until voters who have been promised improvements consider renewing a property tax they approved in 2012.
Gordon came with a checklist, as is his practice on frequent school visits, to make sure that sidewalks were cleared of snow, security was on its toes and restrooms were stocked with soap and toilet tissue. He also stops in classrooms to see whether students are actively engaged in learning.
"We promised you we would start doing business differently," he said.
The Luis Munoz Marin report showed that there is more to do.
Third-graders stumbled on state reading tests in October. CMSD has noted that the tests took place early in the school year, before reforms in
The Cleveland Plan
had time to gain traction
, and that Ohio aligned questions with the more rigorous
Common Core standards
adopted by states across the country.
Also, average attendance, which topped 90 percent in the first quarter dipped to about 88 percent in the second quarter. The state standard is 93 percent.
"If we are here to teach your scholars, they need to be here to learn" said Keruski, who encouraged parents to stay in contact with the school throughout the year. "Please support us in this."
The audience posed tough questions, such as what the school is doing about seventh-grade classrooms as large as 34 students and whether intense reading intervention with struggling readers will cause proficient readers to grow bored and distracted. Gordon and Keruski said the new flexibility principals have in budgeting can address class sizes and that strong readers are getting work tailored to them.
A woman asked how her child could receive a high mark on a report card while performing poorly on a proficiency assessment. Keruski said he had just raised the same question with staff and stressed the need to align tests and instruction.
Keruski said he accepted full responsibility for student performance but said parents could help by volunteering and getting their children to read at home. Yolanda Lewis, mother of a seventh-grader, said she planned on visiting the school more often.
Damelia Lopez has two children who attend the school, along with nieces and nephews. She said after the meeting that she has noticed a change in the building.
"Everything is different," she said. "And I love it."