Return to Headlines
Sign up in February for best chance of getting into school of your choice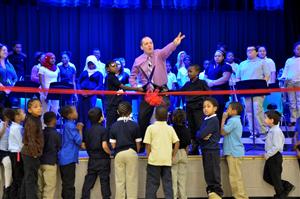 CMSD NEWS BUREAU
2/11/2014
CMSD is encouraging families to decide this month which schools they want to enroll students in for the 2014-15 school year.
High-quality options are increasing under the District's new portfolio model, which allows students and families to pick the schools that best fit their needs. But if they wait too long, it may be too late.
Students may attend any school if space is available and, in some cases, they meet admissions criteria. Through open enrollment, t
hat choice also extends to families and students in neighboring school districts
.


Offerings include single-gender elementary schools, all-male Ginn Academy high school, MC2STEM High School, STEM elementary schools, New Tech Academies, career-technical schools, the small high schools at John Hay Campus, Campus International, Cleveland School of the Arts and more.

New this year

will be two small schools, launched with $3 million from the Carnegie Corporation of New York, that will share John F. Kennedy High School; Bard High School Early College Cleveland, which will be operated in conjunction with Bard College of New York and allow students to earn a diploma and associate degree in four years; and the Cleveland High School for the Digital Arts.

The JFK and digital arts schools will start with ninth-graders; Bard will open with the ninth and 11th grades. The JFK schools will spend a year at the former Cranwood School to give new cultures time to take root.
Students can be registered by going to the School Choice Portal,
www.ClevelandMetroSchools.org/SRC
. Families new to CMSD must first enroll at neighborhood schools or CMSD's Office of Student Assignments at 1111 Superior Ave.
Here are answers to some frequently asked questions.
Q: What is the School Choice Portal?

A: Formerly called the SRC (Student Registration Center) CMSD's School Choice Portal is a web-based site where parents can submit preferred school assignments for their children. Parents need a user name and password before they can access this portal. CMSD parents can call 216-838-ENRL (3675) to obtain passwords. Families new to CMSD will obtain their passwords when registering at neighborhood schools or CMSD's Office of Student Assignments at 1111 Superior Ave.
Q: Where do I find information about schools?

A: A complete directory with school names, addresses and hours is available on the District website,
www.ClevelandMetroSchools.org
or by calling 216-838-ENRL (3675)
Q: What information or materials do I need to enroll?

A: The following documents are required: birth certificate, immunization record, proof of address (lease, utility bill, pay stub, bank statement, mortgage statement), withdrawal form, most recent report card or transcript, guardian's state ID and, if applicable, guardianship or custody documents.
Q: What if my child has an IEP or needs special assistance? I don't speak English. Where can we get bilingual support? I am homeless. What school supports do you offer?

A: Students with individualized education plans or those with suspected disabilities must contact the Special Education Office, 1111 Superior Avenue, 216-838-SPED (7733). Students who speak a language other than English or live in a household where another language is spoken must register at the Multilingual Welcome Center, 3145 W. 46th St., 216-404-5159 or 216-404-5113. Families who are homeless, doubled up with other families or in some other type of transition should contact Project ACT, 1111 Superior Avenue, 216-838-0210.
Q: Will I automatically get my first choice of school?

A: Requesting a school does not mean automatic acceptance. Some schools have acceptance criteria or specialized programs. Some school choices are determined by lottery because of the high demand.
Q: How does the lottery work?

A: Through the online School Choice Portal, we try to assign students to their preferred school choice, but the process is limited by building capacity or available services. To keep the process fair, the system assigns students based on a random lottery. Feb. 28 will be the last day to submit choices before the lottery. If a building is full, names will be put on a waiting list. Siblings who live at the same address will have the same random lottery number; if they choose the same school, it is likely they will remain together.
Q: When and where are lottery results published?

A: Results will be published in the School Choice Portal and will appear on the third marking period report cards.
Assignment letters will be mailed to parents of students not presently attending CMSD.
Q: What about transportation?

A: Students in grades 6-12 who live more than a half-mile from school will be given RTA swipe cards that will allow them to ride RTA from 5:30 a.m. to 8 p.m. every school day. The cards are not valid on holidays, weekends or on scheduled school vacation days. Students in kindergarten through fifth grade who live more than a mile from school, or who otherwise qualify, will be provided transportation on yellow buses. Call 216-634-7020 for information.