Return to Headlines
CEO tells ministers he sees 'signs of hope'
CMSD NEWS BUREAU
2/20/2014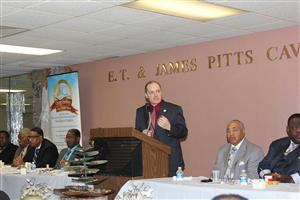 CMSD's reform efforts are bearing fruit, but solving deep-rooted problems will require persistence, Chief Executive Officer Eric Gordon told a gathering of the city's clergy Thursday morning.
A breakfast at Greater Abyssinia Baptist Church on East 105th Street brought together more than 150 ministers whose support was critical to passing Issue 107 – the District's first new operating levy in 16 years – in November 2012.
Gordon told the ministers that tests given by the District indicate scores are picking up at least slightly at both the high school and elementary school levels. He said he is not ready to celebrate but sees "signs of hope."
While solutions won't come overnight, a clock on the CMSD website underscores the need for action, Gordon said. As of Thursday, the clock, which counts down the days remaining until the levy expires, gave the District 991 more days to reward the voters for their confidence.
"We have to be urgent," he said. "The clock started at four digits; it's down to three."
The progress report delivered at the breakfast covered a number of areas targeted by The Cleveland Plan, CMSD's state-approved blueprint for reform:
Gordon said CMSD is reshaping its workforce with stronger teacher evaluation and a system of pay based on performance and skills, not just seniority. With a wave of retirements expected, he said CMSD will aggressively search for teachers who believe in the District's mission.

"We have to be careful not to get the people who come to Cleveland only because they have to," said Gordon, who urged the clergy to join building-level teams that will make the selections. "We have to get people who want to do what we do."

Drawing applause, he said a task force will soon present a plan through which CMSD and other providers will expand access to quality prekindergarten. He said an initial 800 to 1,000 seats will be added this fall.

CMSD is putting resources into its lowest performing schools, also known as Investment Schools, while creating new models that give students and families more high-quality options. Four new schools will open in the fall: an "early college" high school on the West Side that will be operated by Bard College of New York, a digital-arts high school downtown and two small schools at John F. Kennedy High School that will require students to demonstrate "mastery" of skills to advance.

Student-based budgeting will transfer control of most spending to schools based on their particular priorities. Schools
that continue to lose students will lose funding, but Gordon said the strategy will shift resources to schools where the money is most needed.

Gordon said the Board of Education could ask voters to extend payments on a 2001 bond issue that, along with state funds, has paid to build and renovate schools. Gordon said the District will need money for preventive maintenance on the schools as the buildings age.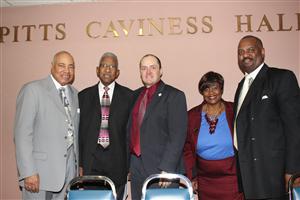 During a question-and-answer period, Bishop Tony Minor, pastor of Community of Faith Assembly, pressed Gordon to set specific expectations for the next 18 months. Gordon said the District should improve on a 61 percent graduation rate and raise long-flat results on the National Assessment of Educational Progress, reading and math tests that are taken by fourth- and eighth-graders.

Minor said he would have preferred that Gordon provide exact targets but was satisfied with the response.

"It gives us something to look forward to and hold him and his team accountable for," Minor said.

The Rev. E.T. Caviness, pastor of Greater Abyssinia, lauded Gordon and said he was addressing the District's challenges.

"All positive stuff," Caviness said as the crowd left the church hall. "Marvelous morning."