Return to Headlines
PACE to help students find their career paths (Photo gallery)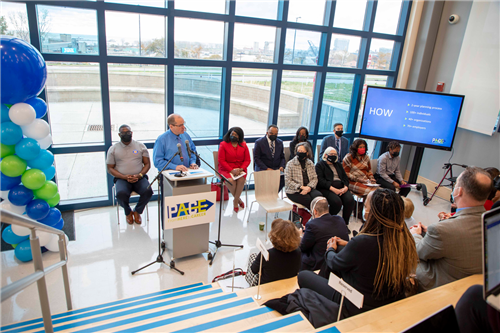 CEO Eric Gordon and community parthers introduce the PACE (Planning and Career Exploration) program.
CMSD NEWS BUREAU
11/15/2021
CMSD is kicking off a major new program that will get students thinking about careers at a young age and later guide them as they plan futures and gain workplace experience.
PACE – for Planning and Career Exploration – starts this year with the sixth through 12th grades and will eventually be introduced as early as kindergarten. CMSD and partners announced the program Monday at the District's Garrett Morgan campus.
Graduating CMSD seniors can receive tuition scholarships through Say Yes to Education, but about half have passed on going to college. PACE will help everyone, college bound or not, find a path to skilled and living-wage jobs.
"We always hear references to college or career, when really the goal is career – period," District CEO Eric Gordon said. "We want to make sure all of our students are preparing for the future and focusing on what they are passionate about."
Planning for PACE began in 2019, the same year Say Yes debuted. CMSD and the Cleveland Foundation initiated the conversation, but it widened to include higher education, industry, employers, and youth-centered workforce and other nonprofits. In all, more than 100 individuals, 40 organizations and 70 employers have participated.
Using the tagline, "From Here to Career," the program will emphasize awareness of careers in the lower grades before progressing to exploration, planning, internships and other job-related experiences, and, finally, transition with support to the workforce. Mentors and coaches will provide guidance.
Those who don't go on to obtain degrees can still pursue micro-credentials, serve apprenticeships, obtain technical certificates or go directly into the workforce.
Amari, a senior at the John Marshall School of Information Technoogy, has given a lot of thought to what she does next: go to college, study criminal justice, join the Air Force ROTC, play rugby. But she knows some of her peers are undecided and feel overwhelmed as graduation nears.
"While college might be for me, it's not for everybody," Amari told an audience gathered at Garrett Morgan. "Now we can all have much needed support within our individual pathways."
Kenyontay, a sophomore at the Garrett Morgan School of Engineering and Innovation, hopes to play professional basketball, go into real estate or practice law. But he said PACE will broaden his horizons even further.
"I will have a lot of opportunities that I didn't know I had," he said.
Besides the Cleveland Foundation, other anchor partners include the Neighborhood Leadership Institute, Junior Achievement of Greater Cleveland, College Now Greater Cleveland, Youth Opportunities Unlimited, Greater Cleveland Partnership and The Fund for our Economic Future.
Speakers from the Greater Cleveland Partnership and sector partnerships said local employers in fields like manufacturing, healthcare and information technology are in need of qualified job candidates and will welcome them with attractive starting pay.
"We need you to fill these positions and continue to make our community grow and thrive," said Shana Marbury, general counsel and senior vice president, talent, for GCP.
For more information, go to ClevelandMetroSchools.org/PACE.