Return to Headlines
Students from Muñoz Marin School win NBA Math Hoops championship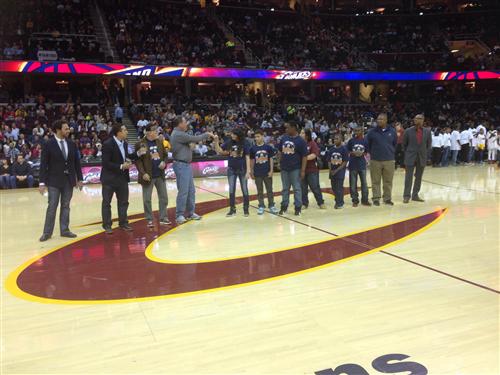 CMSD NEWS BUREAU
4/10/2014

Three more CMSD champions were crowned last week: A trio of seventh-grade students from
Luis Muñoz Marin
School won the first NBA Math Hoops State Championship in the grades 6-8 bracket.
Students Antonella Vera, Hector Castro, and DaShaun Brooks were honored at halftime of the Cleveland Cavaliers game Saturday night after winning the competition Friday.
NBA Math Hoops i
s a "fast-paced basketball board game and mobile app that allows students to learn fundamental math skills through direct engagement with the real statistics of their favorite NBA and WNBA players," according to the organization's website.
Photos of the event can be seen on the
Flickr page of the Cavs' mascot Moondog
.
All teachers and students who participated in the competition on Friday received tickets to the
the Cleveland Gladiators game that night and the Cavaliers game on Saturday.
Also according to the website:
The NBA Math Hoops curriculum is tied to Common Core State Standards and 21st Century Learning Skills, and it has been shown to improve students' basic math skills and understanding of statistics, in addition to their interpersonal skills, driving them to collaborate more effectively with their peers.

With an appreciation and understanding of math, students will become passionate, self-directed learners, and they will have the capacity to control their personal and educational narratives. They will have a better chance of graduating from high school, attending college and ultimately pursuing meaningful careers in Science, Technology, Engineering and Mathematics. We create Math Champions, one game at a time.

NBA Math Hoops is developed and distributed by Learn Fresh, a 501(c)3 nonprofit, in association with NBA Cares. Learn Fresh seeks to eliminate racial and socioeconomic achievement gaps and ensure that all U.S. students are engaged in school and have a solid foundation in fundamental skills.