Return to Headlines
John Marshall Chess Team places in top 20 during Nationals
CMSD NEWS BUREAU
4/12/2022
The John Marshall Chess Team came home as one of the top teams in the nation after competing in the U.S. Chess Federation National High School Championship.
The players who competed in the under 1200 rated division came in 12th place and those in the under 800 rated section came in 13th place.
Chess coach Cameron Cutler said all the students did an amazing job. They each competed in seven matches that could last up to four hours.
"I did see each of our students' progress. I could see them getting better during each game," said Cutler.
Approximately 1,067 chess players from 40 states competed in the championship over the weekend in Memphis, Tenn.
This was the first in-person competition for the U.S. Chess Federation National High School Championship since 2019.
"I think we all thought the weekend was a success," said Cutler. "Considering this was the students' first big tournament in two years due to COVID, I think everyone is happy."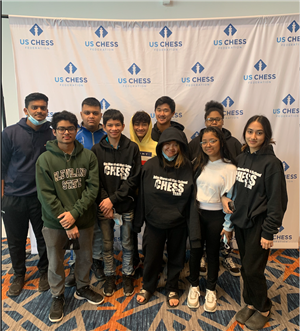 John Marshall Chess Team at the U.S. Federation National High School Championship.
Reyosh, a 10th-grader at the John Marshall School of Information Technology, received an individual medal for finishing in the top 35 in the U1200 category.
He won four of the seven matches and tied one.
"I was very surprised and pretty proud of myself," said Reyosh, who was also on the Joseph M. Gallagher school team when they placed sixth in nationals and won a state title in 2019.
Cutler said Akshar, the team captain, really stepped up and helped prepare the younger players.
The John Marshall team won the CMSD Chess Championship and placed third in the Greater Cleveland Scholastic Chess League this year.
"I am proud of our team," said Reyosh. "I am really proud of everyone. I am very thankful we had the opportunity to come to Nationals."