Return to Headlines
Report details impact of pandemic on education in Cleveland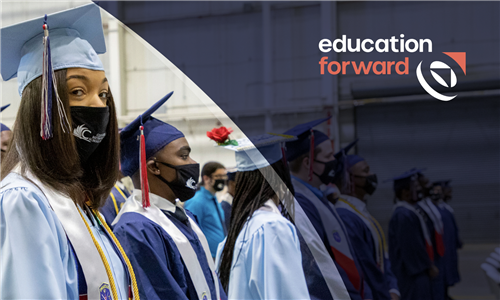 CMSD NEWS BUREAU
5/27/2022
Education in Cleveland – from preschool to college -- has suffered sharp setbacks during the pandemic and will need strong community support to recover, a new report says.
"COVID has tested the very core of our educational delivery system," Helen Williams, the Cleveland Foundation's program director for education, said during the release of the report Thursday at Cleveland State University. She said the problem is not unique to Cleveland but added that the community "has a history of setting a direction, sticking to it and making a difference."
The report, titled "Education Forward, the Impact of COVID-19 on Cleveland's Education Landscape," lays out the disruption the pandemic and abrupt shift to remote learning two years ago caused after a decade of impressive gains made under The Cleveland Plan, a customized blueprint for education reform in the city. The Cleveland Foundation worked on the report with the Cleveland Transformation Alliance, College Now Greater Cleveland, the George Gund Foundation, the Higher Education Compact of Greater Cleveland, PRE4CLE, Say Yes Cleveland and Starting Point.
To download and read the report, go to educationforwardcle.org.
According to the report, high-quality preschools are slowly refilling seats but continue to deal with loss of revenue, a teacher shortage and other problems. CMSD is working to counter the effects of lost learning time, a sharp increase in chronic absenteeism, student trauma and staffing shortages.
Enrollment of Cleveland students in postsecondary education rose in 2019, the year that the Say Yes Cleveland scholarship program was launched, but the rate fell, along with completion of the Free Application for Federal Student Aid, or FAFSA, after the pandemic took hold. Many respondents in a College Now survey reported mental health, anxiety and other concerns.
The report makes detailed recommendations for preschool, K-12 education and postsecondary education. It also lists first steps that include:
ensuring education institutions at all levels have the funding needed to continue operations and support students and educators;
investing in academic and mental health supports to address loss of learning time and the psychological impact of the pandemic;
ensuring access to reliable high-speed internet, devices, and digital literacy training for all students and families;
retaining, promoting and expanding the educational workforce to close staffing gaps; and
making postsecondary education an option for all students by ensuring college affordability through funding scholarships and securing increased federal and state support.
CMSD Chief Executive Officer Eric Gordon called the report a call to action for the community.
The CEO said the last two years have been a "long, hard run," but he expressed optimism that the District and community will rally. He said he has seen promising evidence of student learning in schools.
"I have a lot of hope," he told the audience at Cleveland State. "I know what we have done. I know what we can and will do."