Return to Headlines
Young artists' work displayed in New York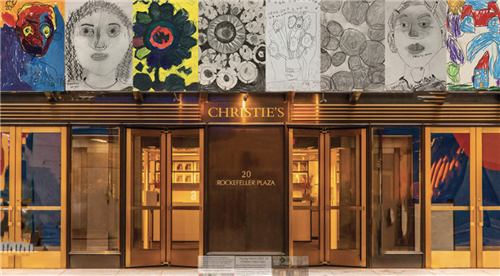 Pieces shown here are works that Mary B. Martin students will have on display at Christie's Auction House in New York. The illustration is courtesy of artist Georgio Sabino III.
CMSD NEWS BUREAU
6/6/2022
Students at Mary B. Martin and Clara E. Westropp Schools are still new at art, but their work is already going on display and being made available for sale at Christie's Auction House in New York.
Eight students at Mary B. Martin and 12 from Clara E. Westropp had works accepted for the Young Visions 2022 exhibit through a partnership with the New York-based Studio Institute and Christie's. Their pieces were chosen from among hundreds submitted by students in Cleveland and East Orange and Newark, N.J.
Cleveland artist Georgio Sabino III began working with about 100 Mary B. Martin students in January as part of a Studio Institute residency program.
The students, as young as preschool age, learned art history, developed problem-solving skills, connected with their creative sides and discovered what is required to be an artist. Sabino encouraged them to take chances and not be afraid to make mistakes.
"I had a great time with these young people," said Sabino, who will return to Mary B. Martin in the fall. "They were focused, engaged and explored their imagination with joy."
Samuel, a second grader, said he has grown to like art while working with Sabino.
"You get to paint and make colors," he said. "It's fun."
Danielle Townsend said that her daughter, Paradise, who was in the fifth grade, learned a lot from the experience and that it helped to improve her grades in other subjects.
Teachers who worked alongside their students said the children clearly enjoyed the art lessons.
"For my kids, it was exposure to something different," third-grade teacher Chandra Johnson said. "It was for me, too."
The students' works will be displayed at Christie's from Wednesday through June 14. The Mary B. Martin pieces will then be returned to Cleveland for public viewing at a location to be determined. Replicas will be substituted for any works that are sold.
Sabino specializes in fashion design, painting, photography and augmented reality. He also works with Mary B. Martin students on photography and painting as part of new Say Yes to Education after-school programs started this school year.
Studio Institute, founded in 2016, is an outgrowth of Studio in a School, an organization that philanthropist Agnes Gund started in New York in 1977. According to its website, Studio Institute currently has partnerships in New York; Newark, N.J.; Memphis; and Cleveland.