Return to Headlines
Science and Medicine seniors don college 'hoodies' at 'Signing Day' ceremony at John Hay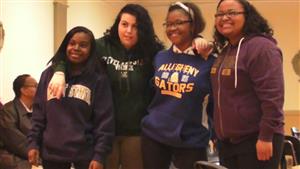 CMSD NEWS BUREAU
5/1/2014

They broke out the hoodies Thursday at the Cleveland School of Science and Medicine — and no one got busted for violating the CMSD dress code.

In fact, when nearly 100 seniors at the school put on their hooded sweatshirts, the crowd of educators, parents and students in a third-floor cafeteria went crazy. That's because at the school's annual "College Signing Day," each colorful hoodie was emblazoned with the logo of one of 39 colleges that students at the school have selected to attend this fall.

That's a 100-percent college acceptance rate at the School of Science and Medicine, one of three highly rated high schools housed in the District's John Hay Campus. Four of the school's students were accepted to Ivy League schools, two to Barnard College of Columbia University and one each to Columbia and Dartmouth.

Ohio colleges included Cleveland State, Ohio State, Kent, Akron, Denison, Hiram and others.

"We follow a dress code 199 of the 200 days a year that school is in session, but today we make an exception," Head of School Ed Weber said. "This is what we've been working for over the last four years. The scholastic rigor and the expectations of you from your teachers and from me and from your parents was to get you to this day."

Weber then further whipped the crowd into a frenzy, taking off his blazer and putting on his own John Carroll University hooded sweatshirt.


District CEO Eric Gordon also got into the act, pulling a Bowling Green State University sweatshirt over his shirt and tie and bragging about his alma mater. Chief Academic Officer Christine Fowler-Mack held up one from her school, the University of Akron.
Gordon told the students that he was the first in his family to finish college and then recognized students who will be the first in their families to go to college, those who intend to be the first to finish and those who are carrying on a tradition of college education in their family.
He also asked the students to reach into air. After a pause, he asked them to reach even higher.
"Remember this moment when someone is telling you that you can't succeed or that you've gone far enough and you can't go any farther — because you can," he said. "You can do whatever it is you want to do. Now, go to college and make us proud."
The School of Science and Medicine, along with Cleveland Early College High School and the Cleveland School of Architecture and Design, have turned the John Hay building into what is seen by some as one of the nation's best examples of the transformation of urban education.
John Hay reopened in 2006 after then-CEO Barbara Byrd-Bennett had closed it for remodeling following years of low test scores under a traditional high school model. It reopened with standards —both Science and Medicine and Architecture and Design require a 3.0 grade-point average for admission. The school first achieved "Excellent" on an Ohio report card two years later.
Gordon credited the Class of 2014 for also making a difference.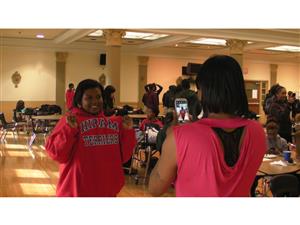 The morning event was also dominated by photography: Parents taking snapshots of their children in the college sweatshirts, teachers mugging for the camera with their students and teenagers taking "selfies" and group shots akin to what happens on graduation day. The School of Science and Medicine students will graduate May 23.
"It's very important for her and for my other family members to go, my children and my grandchildren next," said Erica Fodor, whose daughter Jenny Sabliov will attend Mercyhurst College in Pennsylvania. "She was always busy studying at the library and she wants to prove herself to everyone, that she can do this."
Student Sahib Jamal, a 2014 Joan Edwards Scholar, will attend Case Western Reserve University and introduced one of the guest speakers, Rick Bishchoff, vice president of enrollment at the school.
His father lauded the school for preparing Sahib for college: "John Hay and CMSD was a great choice for him, for us," Jamal M. Jamal said. "The quality of education was great and principal Weber was a great leader."
Also among the soon-to-be graduates going to the Ivy League is Willie Koomson, who will follow an older brother and sister to college. Brother William Jr. is at John Carroll and sister Wilhemina will graduate from Princeton this spring.
Wilhemina Koomson
, who eight years ago was in the first freshman class at Science and Medicine and four years ago
in the first graduating class
, will come back to her alma mater to speak at the graduation.
John Hay received its first "
Excellent" on a state report card in 2008
. The three schools are now rated separately.
Willie has made his own mark. A 15-year-old senior who skipped several grades,
he became the Cleveland District's only National Merit Semifinalist this year.
He joins about three dozen other Northeast Ohio high school seniors among about 16,000 semifinalists announced earlier this year by the National Merit Scholarship Corp.
Science and Medicine's biomedical sciences program also made news recently when it earned certification from Project Lead the Way, the nation's largest provider of STEM (science, technology, engineering and mathematics) programs to schools. The Indianapolis-based group said a team that visited the site found innovative, dedicated teachers, strong parent support and outstanding opportunities for internships and summer learning.

"This is one of the best BMS programs we have seen anywhere," Project Lead the Way said in an email to the school.