Return to Headlines
Application deadline near for managing PRE4CLE
CMSD NEWS BUREAU
5/23/2014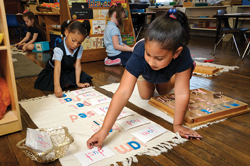 Nonprofit organizations, academic institutions and consultants have until Thursday to submit a proposal for serving as an administrative entity to develop and manage
PRE4CLE,
a community initiative that will make high-quality preschool available throughout the city.
PRE4CLE, which
was announced in March
, is a collaboration between CMSD, other high-quality learning providers and community stakeholders.The goal is to rapidly increase the number of 4-year-olds, and eventually 3-year-olds, enrolled in prekindergarten programs that are highly rated on state quality standards and can provide a solid start to a child's education.
The PRE4CLE administrative entity will act as "managing intermediary" and oversee the program and finances while reporting to the Cleveland Early Childhood Compact, co-chaired by CMSD Chief Executive Officer Eric Gordon and Marcia Egbert, senior program officer for human services at the George Gund Foundation.
Duties will include raising money from public and private sources to support the plan, contracting with providers, hiring recruiters to increase enrollment and contracting with entities to communicate with families and evaluate the program's success.
"We're very open to two and maybe three organizations partnering. Maybe one doesn't bring all the qualities, but together they do," said Kris Putnam-Walkerly, president of the Putnam Consulting Group. The firm, which is providing interim management services, specializes in work with philanthropic foundations and community initiatives.
PRE4CLE will cost an estimated $15 million in the first year for purposes such as expanding the number of available high-quality seats, helping programs obtain a quality rating through the state's Step Up to Quality rating system and training for teachers and aides. Work is under way to help provide transportation and tuition assistance. CMSD does not charge for prekindergarten; other programs have varying tuition policies.
The District will contribute $2.5 million in 2014-15, and Cuyahoga County will add $1 million over two years. The initiative is also pursuing federal and state funds.