Return to Headlines
'Rent' debuts as All-City Musical this weekend at Ohio Theatre (video)
CMSD NEWS BUREAU
5/29/2014
This weekend's All-City Musical promises to be another dramatic and exciting chapter in a 15-year partnership between the District,
Great Lakes Theater
and the downtown Theater District.
More than 40 CMSD students (see video, at right) will join a few dozen more on crew and dozens of professionals from the Great Lakes Theater to perform "Rent" Friday through Sunday at the Ohio Theatre. Tickets are $15 for general admission seating and are
still available online
or at the Playhouse Square box office.
The award-winning musical tells the story (
read a full synopsis here
) over the course of one year ("525,600 minutes" for the already "Rent" savvy) of a close-knit group of New York City artists who deal with HIV, drug use and sexual issues as they face eviction from their apartments.
The artistic challenge
Putting together a high school musical with enough heft and professionalism to hold the stage in Cleveland's renowned Theater District is a big-ticket task, said Tony Sias, director of
arts education
at
Cleveland School of the Arts
. He is directing "Rent" with his wife, Kimberly Brown Sias.
"But I think we're in great shape right now, even though we just got on the set (May 21) for the first time," Sias said.
The cast did have an entire 12-hour day on stage
Sunday, including a full dress rehearsal, and were presenting student matinees this week as additional preparation.
Until the last week, the cast had been sitting or standing in groups on the Playhouse Square rehearsal stages, working on group and individual parts.
"We get about 20 hours on stage before we're performing in front of an audience," Sias said. "That's not a lot of time."
With a cast and crew of more than 90 people – about 65 are students and 40 of those are on stage at some point – there are a lot of moving parts for the Sias couple.
The journey for cast and directors began with tryouts in March at the Playhouse Square rehearsal stages (see video, below).
The "Rent" story
"Rent," very loosely based on Puccini's opera "La Boheme," is an award-winning musical that ran on Broadway for more than 12 years. In 1996, the play won the both a Tony Award and the Pulitzer Prize.
Those particulars are not altered for the high school version. Instead, some profane language is excised and one sexually explicit song is axed entirely.
Supporters of the high school version have said that enough of the key elements remain to retain a story that has been described as one that "
confronts death at its most wrenching and inconceivable — when it claims the young — and measures and exalts the meaning and preciousness of our lives through our interconnectedness as members of a community." (Bill Rudman, artistic director of The Musical Theater Project)
Sias said the education component of a such a thought-provoking piece has been very important. Each teacher who requests tickets for his or her students is sent a resource guide created by The Musical Theater Project.
"And we stop often during rehearsals to just talk with the students in the production," he said. "Just historical references like 'Who was Allen Ginsberg? What was he about? What does this mean in this context?'
"There are a lot of connections to pop culture not only of the 1990s, but the 1960s and more, and all of it is worth examining and discussing. That's one of the things that art does for us, especially when we tie it to academics."
Bringing "Rent" to CMSD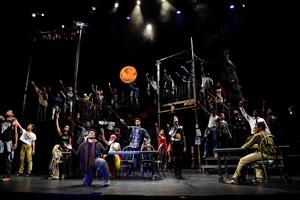 Photo by Roger Mastroianni
Although "Rent" had been on Sias' short list for a few years, it took a push from someone else to bring the thought-provoking contemporary musical to the stage: District CEO Eric Gordon.
Sias said Gordon called last June to congratulate him and his wife on the success of their 2013 musical "Aida."
Then Gordon asked him a point-blank question. "He basically just said: 'Tony, have you ever considered doing 'Rent?' " Sias said.
"I told him, 'With you behind it, it will sure be a lot easier,' and it has been. It's great to be in a District where we are willing to be thoughtful and challenging about both art and education."
Sias said the musical connects well to the District's emphasis on "social and emotional learning" and making healthy choices.
"This is such relevant and timeless material for your students today, who are making the same decisions about sexual health and some of whom have also dealt with homelessness in a very real way," he said.
"But, also, even if the choices made by the characters in the musical aren't your choices, aren't your life, we focus on the need to respond respectfully to others who may be different than us."
Controversial school debuts elsewhere
When the already popular musical first became available for theater production by high school casts in the late 2000s, it hit the American schools culture like a knife, dividing them into two camps.
One camp contended that the play was too edgy or mature for young audiences; the other, that it was a valuable, artistic reflection of a culture that teens were already aware of or even possibly involved in.
A
2009 New York Times story reported
that planned productions of "Rent" at high schools in California, Texas and West Virginia were canceled "after administrators or parents raised objections about the show's morality, its portrayals of homosexuality and theft, and its frank discussions of drug use and HIV, according to administrators, teachers and parents involved in those cases."
"'Rent: School Edition' appears to be something of a cultural litmus test, with supporters and opponents of the play using its words and themes to battle," the Times reported.
CEO's straightforward message

Gordon
wrote a message
in advance of the production in which he talks about the challenge and reason for showcasing "Rent," suggesting that it is appropriate for students in grades 8-12.
Gordon also said the musical connects to
the Common Core State Standards for academics
and specific District initiatives such as:
Social and emotional learning (creating responsive, resourceful and resilient students)

Health and wellness, including responsible sexual behavior and choices

Subject-specific curriculum from history to language arts to art and music
"I encourage teachers to use 'Rent' as an opportunity to align to a central tenet of the Common Core: helping students question what the author of a rigorous piece of literature is trying to tell us, and then connect it to their own science, social studies, and health/wellness coursework," Gordon says in a written message on the District website (
clevelandmetroschools.org/rent
).
"The information and pre- and post-performance lesson plans included in
this guide
provide meaningful ways to make "Rent" a significant learning experience."
In encouraging anyone from Greater Cleveland to attend one of the three performances, Gordon again tied it to the experience for the student.
"Our goal with "Rent" is to create an authentic learning experience for students – and what makes an authentic experience in musical theater is an engaged audience," he said. "By participating in our performance, we can all work together to fully realize the potential of this exciting work."