Return to Headlines
Campus International School gains accreditation for global curriculum
CMSD NEWS BUREAU
7/24/2014
CMSD's
Campus International School
already has a well-earned reputation as a cutting-edge, progressive school on the campus of partner Cleveland State University.
That stature got another boost this week: The school, for kindergarten through sixth grade and growing, received accreditation from
The International Baccalaureate
as an authorized IB World School, making it an official member of a global community of schools using a specific curriculum (the Primary Schools Programme in the IB vernacular).
Campus International Principal Julie Beers said gaining approval from the international body is gratifying but is also a challenge to her and the staff at Campus International to keep improving the four-year-old school.
"That should always be the case,"she said. "No school has it perfectly right, and you should always be striving to improve and be open to changes."
Beers said the evaluators told her that Campus International was "more like an established IB school up for review than one going through its first verification evaluation." (You can read the summary report
here
.)
"We're very happy about this, of course,"
said Beers, who has also been getting some positive press, including features in a public relations newsletter and Scene Magazine.
"They really liked our collaboration with CSU and our families' knowledge of what International Baccalaureate is all about."
The International Baccalaureate is a non-profit educational foundation founded in Geneva, Switzerland, in 1968 to "help develop the intellectual, personal, emotional and social skills to live, learn and work in a rapidly globalizing world,"
according to its website.
There are more than 1.2 million IB students in 3,800 schools in 148 countries, including 1,500 schools in the United States. Campus International is among 427 offering the "Primary Years Programme" (ages 4-12).
Campus International has been growing rapidly since opening in 2010. The school is at capacity with 490 students in kindergarten through sixth grade and has waiting lists at each grade level.
This year, fifth- and sixth-graders will be taught in what school officials are calling the South Campus, a converted Methodist church at East 30th Street and Euclid, and kindergarten through fourth grade will remain at the North Campus, the CSU Cole Center on Chester Avenue.
Campus International added sixth grade this year and intends to grow by a grade a year until it includes a complete high school. That means the school can apply for what IB calls the Middle Years Programme (6-10th grades), another accreditation process that could take several years.
"Eventually, the expectation is to offer the Diploma Programme for 11th- and 12th-graders," she said.
The initial accreditation this year was based primarily on a two-day visit to Campus International by IB officials in March. The visit included observations of teacher-student interaction, inspection of student work and interviews with administrators, teachers, other staff, students and a group of parents, Beers said.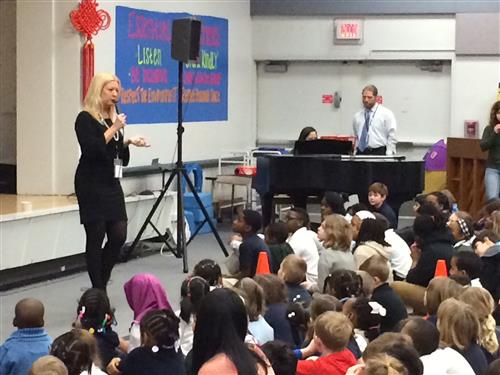 "The parent interview was kind of interesting because we decided that instead of handpicking certain parents for them to talk to, we would just send them into our 'Coffee Monday' and see what happens," Beers said, referring to the outreach to parents she set up at the school every other week. "It may have seemed a little risky, but we knew that we would get accurate data about what parents really think."
One parent, who teaches in another school district, wept while describing the caring instruction at the school.
"I think they were really surprised by that," Beers said. "But we believe it was an indicator of the culture we're trying to create here."
The IB report reflected that, handing out commendations in a number of areas, including:
The school develops and promotes international-mindedness.

Promotion of responsible action within and beyond the school community is evident in the school ethos and is integrated into the school curriculum.

The school has taken full advantage of the resources around it to enhance learning by utilizing all resources at the university, museums, library and professionals in the community.
The report also commended CMSD for allowing "more site-based control for budget and decision making for the school." Increased autonomy is part of
The Cleveland Plan
, CMSD's state-approved blueprint for reform.
The evaluators also made recommendations for improvement and added a requirement that Campus International give more information on how it is implementing state and federal testing.
The report also said that Campus International teachers "have had minimal exposure to the IB world community"and should be more connected to developments at other schools and communities.