Return to Headlines
Collinwood High adds New Tech curriculum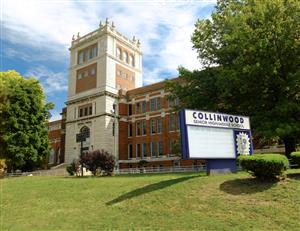 CMSD NEWS BUREAU
8/8/2014
There's a turnaround under way at
Collinwood High School.
This month marks the arrival of the New Tech curriculum at the high school at East 152nd Street and St. Clair Avenue, and Principal Maria Carlson said the staff could not be more pumped up about how that should change the teaching dynamic.
"It's really exciting because it's all project-based learning and all grounded in real-world applications," she said. "So often, students will say, 'Why am I even learning this? I'll never use it.' That's not ever going to be true anymore because they'll be applying it in real time."
That means no more "teachers standing at the board lecturing and students taking – or not taking – notes," Carlson said.
Collinwood joins the
nationwide New Tech Network
, which includes 14 schools in Ohio. Among those are three others in the Cleveland Metropolitan School District: Facing History New Tech, New Tech West at Max Hayes and New Tech at East Tech.
Even with the growing excitement, there are still openings to fill the freshman class, projected to be about 186 students, Carlson said recently.
"We've got a great product to offer at Collinwood, and it's improving all the time," she said. "Now we've got to get more students in here to experience it."
She said the first wave of New Tech student projects will begin with a letter from local industry describing a real-world problem. Addressing that issue will require the use of all academic subjects, she said.
"Then, when they finish the project, they'll have someone related to the project judge them on it, in addition to the teaching staff," she said.
Each student will also receive a Google Chrome laptop computer to accelerate the learning and connection to technology.
All of the coming changes at Collinwood High aren't tech-based.
The school and volunteers are working to revive a marching band that so far includes a drum line, majorettes and horns.
Meanwhile, Collinwood Site Coordinator Amy Carlson (no relation to Maria Carlson) has partnered with local artists to help brighten up the school.
Amy Carlson, who works for Ohio Guidestone, said she has been working with the
Waterloo Arts District
to better integrate the arts into the high school, including photography. One potential project would bring in painted wood panels with words like "Optimism," "Grit" and "Social Intelligence" to place throughout the school to break up the monotony of otherwise drab colors.
"That's a work in progress, but mostly we want to deepen our partnership with the arts district," Amy Carlson said. She said the school is also adding a full-fledged boxing club this school year after trying it out near the end of last school year.
Collinwood High is one of CMSD's 23 "Investment Schools," low performing schools singled out for intensive academic and other intervention under
The Cleveland Plan
, a state-approved blueprint for reform. In a joint effort with the United Way of Cleveland and other partners, site coordinators arrange for community "wraparound" services tailored to individual school needs.
CMSD Chief Executive Officer Eric Gordon has insisted that the wraparound services include tutoring and extend to after school and during vacations. The services will aid students who are coping with burdens like homelessness and hunger.
Carlson's role in the Collinwood revival has not gone unnoticed.
She was named Principal of the Year this summer by
School Turnaround,
a New York-based education leadership development consultant who she has worked with over the last two years since coming to Collinwood from Lincoln-West High School.
"They knew me when I was at Lincoln-West, but I asked them to come out and help me out at Collinwood in my first year because of the challenges there," Carlson said. "They work specifically on the leadership you bring to your school, but in the end what matters is if you've improved your school, and they felt that I had."
Carlson said that despite the honor, she knows there is much yet to be accomplished at the school.
"I'm happy with the gains that we have made, but clearly we're nowhere near where we need to be at Collinwood," she said. "I know that we're capable of improving more, and that inspires me to do that."