Return to Headlines
CEO testifies in support of the Common Core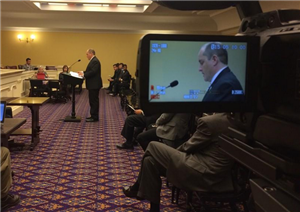 CMSD NEWS BUREAU
8/27/2014

Legislation that would repeal the Common Core State Standards in Ohio would set back CMSD's efforts to prepare students for success in the 21st Century, Chief Executive Officer Eric Gordon testified Wednesday in Columbus.

Others who lined up to testify against House Bill 597 on Wednesday included Cleveland Board of Education member Robert Heard, a parent and representatives of the Greater Cleveland Partnership, the nonprofit Common Good Ohio, the Council of the Great City Schools and Breakthrough Schools, a group of charter schools that works with the District. Two Cleveland Teachers Union leaders testified in opposition Tuesday.
The more challenging standards are to go into effect with state assessments that students take this year, but CMSD was among a handful of U.S. districts that adopted the Common Core well in advance.
House Bill 597 would wipe out four years of preparation, realignment of the curriculum and investment in technology needed for the tests and also would impede learning, Gordon told the House Rules Committee.
"Our children in Cleveland and in Ohio must be prepared to exit high school ready for careers and colleges in Ohio, across the nation and across the world," Gordon said, according to a
copy of his testimony
.
"It would be easy for me to come to you and ask that we not move toward more rigorous standards of student learning, especially in a district that is struggling to meet Ohio's current standards," said Gordon, who took questions from the committee. "It would be easy, but it wouldn't be right."

Instead of rote memorization, the Common Core would promote critical thinking and other advanced skills. Gordon said that would end "teaching to the test," a criticism of the old assessments, and give teachers more freedom, not less.

Gordon said the federal government did not dictate the standards, as critics have argued. States developed the standards with feedback from educators. The CEO also pointed to support for Common Core from teachers, including the Cleveland Teachers Union.

The Ohio Board of Education adopted the standards for the state. The Cleveland school board reaffirmed its support last week, unanimously approving a resolution backing the Common Core.

Heard, a member of the Cleveland board since 2004, submitted his testimony in writing after the committee broke for the morning, and then he addressed District parents who made the trip. A text of Heard's testimony said the board would have opposed standards that infringed on the District's freedom to design curriculum.

"The Common Core State Standards are more rigorous and more challenging than Ohio's previous standards," Heard said in the testimony. "The implementation of these standards will better prepare Ohio students to compete in college and in the workforce with students from across the country and around the world."