Return to Headlines
Bard 's Cleveland students are pioneers, college president says
CMSD NEWS BUREAU
9/5/2014
Students at a new CMSD high school are blazing a trail in American education, the president of New York's Bard College said Friday.
President Leon Botstein spoke at a ribbon cutting for Bard High School Early College Cleveland, which will allow students to earn both a diploma from CMSD and associate degree from Bard in four years.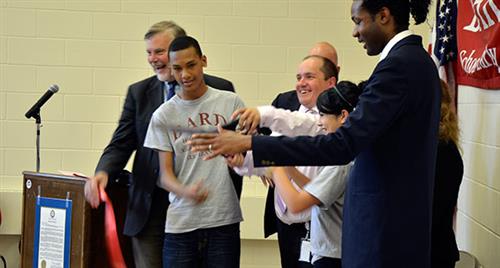 Bard College, a small, private liberal-arts institution in Annandale-on-Hudson, N.Y., and CMSD are partners in the school, which Botstein hopes is at the front edge of a national movement. Bard has launched three similar high schools, but Cleveland's is the first outside the tri-state area of New York, New Jersey and Connecticut.
"You are pioneers in a real change in the way this country treats adolescents," Botstein told the students. "We've never served our teenagers well in our school systems."
Botstein favors challenging students with more serious work in high school, when they are – as he said Friday – grown up.
Students at the new high school on Cleveland's West Side will use critical thinking and deeper exploration of content to make a seamless transition to higher education. Their teachers are certified to teach both high school and college.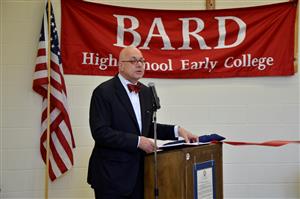 The concept is not the only form of early college, but Botstein views it as the "most coherent" and most efficient. He said Bard's other early college high schools have proved successful, with a large majority of students going on to earn two- and four-year degrees.
Cleveland's Bard differs from some other programs that let students earn college credit, but not degrees. Bard College offers that option at early-college centers in New Orleans and Harlem.
One advantage of the model used in Cleveland, Botstein said in an interview Thursday, is that it gives students a chance to stay together on the journey.
"Kids learn by helping one another, by collaborating, by reinforcing their ambitions," he said. "The kids develop a sense of group pride. Their insecurities are often covered over by the endorsement of their peers, by being assured by peers."
The school, which opened with the ninth and 11th grades, is one of several CMSD schools with admissions criteria. Bard received 351 applications for ninth grade and accepted slightly more than 100; only 36 juniors applied, and 22 got in.
Students with mediocre academic records may be accepted if an interview and writing exercise shows they are hungry to learn or have a perspective to share. Botstein said that is an acknowledgement of the need to give second chances.
"In education, the most important thing is motivation, " he said in the interview. "People develop the motivation, the recognition of the importance of education, at different times."
Bard High School Early College Cleveland adds another option to the portfolio called for in
The Cleveland Plan
, a state-approved blueprint for reform.
It also responds to calls for more innovation on the West Side. Bard will remain in the former Brooklawn School for at least this year; a final location has not been determined.
Botstein said Bard was attracted to Cleveland because of the strong interest and support demonstrated by the District and the Cleveland and George Gund foundations.
The foundations provided money for start-up expenses. Backing from outside parties is critical not only to starting but sustaining early college high schools, Botstein said.
CMSD Chief Executive Officer Eric Gordon told the crowd at the ribbon cutting that the new high school was a symbol of the District's comprehensive reform.
"This is The Cleveland Plan," he said. "This is one of four new high schools that we opened this year, continuing to build a portfolio -- new school models that offer new opportunities for our scholars and their families alongside corrective action to improve those schools that already exist."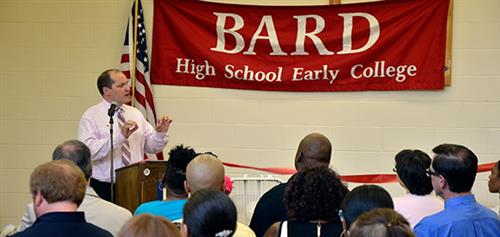 Gordon also praised the Cleveland and George Gund foundations, both of which have program officers who work closely with the District.
"Our foundations are unique," he said. "Many communities have philanthropic support. We actually have partners."
Bard College is eager to play a role in transforming urban education, improving college readiness and ensuring that students not only go to college but finish, Botstein said. He said high school reform is often overlooked in favor of strengthening prekindergarten and elementary school.
Planning is under way for another Bard early college high school in Baltimore. Botstein said the college has been contacted about starting a school in Washington, D.C. and an early-college center in Birmingham, Ala.