Return to Headlines
Ginn Academy honored for healthy practices
CMSD NEWS BUREAU
9/10/2014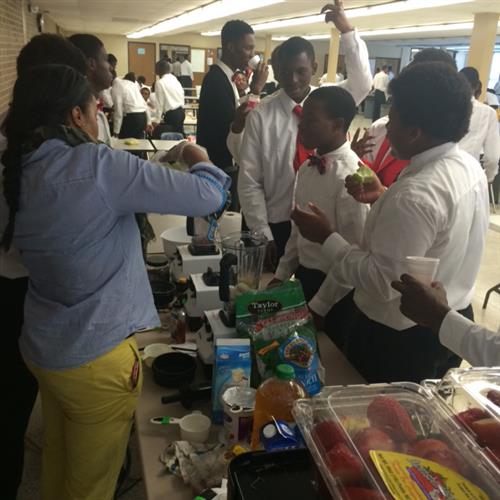 CMSD's
Ginn Academy
will be honored for its healthy habits during a summit scheduled this weekend in Washington, D.C.
Zerrine Bailey, whose job involves encouraging such a mindset, hopes other District schools take heed and follow Ginn's example.
Bailey works full time in the District for the national Alliance for a Healthier Generation, sponsor of the Healthy Schools Program. Ginn achieved bronze status, the program's third-highest level.
United Way of Greater Cleveland and the Mt. Sinai Health Care and St. Luke's foundations pay Bailey's salary.
"It is extremely unique across the country that the District has someone working just for them," said Bailey, who started work April 1. "Our funders here felt it was really important."
Bailey spoke recently to site coordinators who organize
community "wraparound" services
at designated District schools in an effort to eliminate hunger, illness and other barriers to achievement. The program is funded by the District and United Way, which has made education and health part of its new Community Impact Agenda.
"What's the connection between health and academics?" Bailey asked the site coordinators.
"Brain power," one replied quickly. "Attendance," another responded.
The
Alliance for a Healthier Generation
was founded by the American Heart Association and the Clinton Foundation, which was started by former President Clinton. President Clinton will appear at the summit on Friday night.
The Healthy Schools Program honors schools for promoting nutrition, health education and physical activity and creating a healthy environment for students and staff. About 25,000 schools participate, but only 250 earned recognition at the summit.
Four other CMSD schools – Buhrer Dual Language School, John Marshall High School, Douglas MacArthur Girls' Leadership Academy and Michael R. White School -- have achieved bronze status since the program began in 2009. No CMSD school has earned silver or, the top tier, gold.
"It really is pretty distinguished," Megan McIntyre, a spokeswoman for the Alliance for a Healthier Generation, said of the awards program. "It's a lot of work to get to that bronze level."
Ginn, an all-male high school, was recognized for steps such as starting a cooking club and holding "salad days." The Friends of Ginn Academy raised money for a new fountain to ensure access to clean drinking water.
Students grow greens for salads in planters in an atrium at the school. The school has received a $42,000 grant to improve the atrium and add an outdoor garden.
Bailey and Ginn media specialist Adrienne Khan will represent Ginn at the summit. Khan, who serves on a school wellness committee, would like to see Ginn add a salad bar and expand the availability of smoothies, which were sold as a senior-class fundraiser last year.
Terrika Kelley works full time at Ginn for
HealthCorps
, an organization founded by heart surgeon and TV host Dr. Mehmet Oz and his wife, Lisa, to fight child obesity. Kelley recently replaced Jasmine Jackson, who left for medical school after helping to shape Ginn's healthy practices.
Kelley teaches a class for Ginn students that focuses on nutrition, mental resilience and physical activity.
In the weeks leading up to Thanksgiving, she and the 16 members of the school's cooking club will work on a "table transformation" for holiday meals.
"We will spend the next three months transforming traditional Thanksgiving dishes into healthier options," substituting ingredients like whole-grain noodles and cutting out others like butter, Kelley said. Copies of the recipes they follow will be placed in food baskets delivered to 10 needy families.
The school will hold a health fair in December. The fair will occur on the same day as students participate in the
Empty Bowls fundraiser
, selling their handmade bowls filled with soup made by neighborhood restaurants and teachers. Proceeds will benefit the Cleveland Foodbank.
To help students develop mental resilience, Kelley also is launching On Target, a goal-setting and achievement club, that will begin meeting monthly in November. Students will practice archery but also participate in discussion, role-playing and other activities that Kelley said will help them deal with "stress, adversity and other things they will naturally bump into in life."
Junior Anthony Wiley said the Healthcorps' presence and the school's emphasis on healthy eating has made him more mindful of his diet. He said he is active in the cause, helping to post messages about good nutrition in the hallways at Ginn.
Wiley said he and other students gravitate to a vending machine that dispenses low-calorie snacks. He said he once feasted on "hot chips" but has sharply cut his intake.
"Last year, I don't know how much money I spent on those things," he said.