Return to Headlines
Compact, CMSD walk students through college applications
CMSD NEWS BUREAU
10/31/2014
About 30 seniors huddled in a classroom at James F. Rhodes High School this week and pondered the question: What makes each of them unique and how can those qualities be expressed in way that grabs a college's attention?
Seniors at Rhodes and five other CMSD high schools are participating in Ohio's first
College Application Month
, sponsored locally by the
Higher Education Compact of Greater Cleveland
.
Staff and volunteers are helping the students complete applications and write admissions and scholarship essays. Activities at each school will culminate in late November with an Application Day, when candidates double-check their information and hit the computer send button.
The initiative is part of the American College Application Campaign, which aims to increase the number of first-generation and low-income students entering higher education.
Organizers in Cleveland are involving a large number of volunteers –the goal is one for every two students – so the Compact and CMSD are conducting a one-year pilot with a cross-section of six schools: Rhodes, East Tech, New Tech West, MC²STEM, John Adams and Washington Park.
"The idea this year is to explore, see what it looks like and then bring it districtwide next year," said CMSD's Kate Schwab, a curriculum instruction manager in the area of college and career education services.
Tracy Shuman, senior assistant director of outreach and recruitment at Ohio State University, addressed the Rhodes seniors on Thursday, giving them an idea of what admissions teams look for in an essay.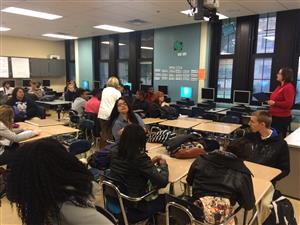 Shuman advised the students to write in a concise and engaging style. She said admissions teams won't pounce on isolated mistakes in punctuation and grammar but may frown on a pattern of sloppiness.
She stressed the need for students to make themselves stand out.
"This is really your chance to brag and tell us how awesome you are," Shuman said. "If it's very bland and general, and I can take your name out and put in five other students' names, that's not what we're looking for."
Mario Lawson, who plays small forward on the Rhodes basketball team, is drawing attention from small colleges interested in his athletic skills. But he also plans to apply to larger schools.
Lawson has drafted an essay that emphasizes his work ethic and ability to learn quickly. The future business-management major grasps the importance of getting his point across and plans to minor in communication.
"You've got to be able to communicate with people," he said.
Moved by the suffering of friends with stomach ailments, senior Jessica Eweroke wants to go to college and study to be a gastroenterologist. She said Shuman and other volunteers gave her better insight into formatting her essay.
Mayor Frank G. Jackson launched the Higher Education Compact in 2011 to increase the number of CMSD students who graduate and pursue post-secondary education.
A report issued last December included the 2012 graduation rate: 59 percent. The District's new state report card showed that the rate rose to a record 64.3 percent in 2013, the most recent year available.
The report also showed an increase in the numbers of students who graduated with a B average or scored at least 21 on the national ACT admissions exam, the threshold for being considered college ready.
The percentage of students completing more than one application also rose, as did the average number of applications each student submitted. The percentage of students who immediately enrolled in college after high school dipped, leading to the speculation that they were discouraged by the cost.
Schwab said CMSD is pushing students to apply to at least four colleges. She said that will increase their chances of finding the right fit and obtaining more financial aid.