Return to Headlines
Voters give building plan strong support
CMSD NEWS BUREAU
10/5/2014
The Cleveland Metropolitan School District will continue building and refurbishing schools, buoyed by an overwhelming vote of confidence at the polls on Tuesday.
Issue 4, which includes a $200 million bond issue for construction and a half-mill annual levy for maintenance, passed with more than 62 percent of the vote. The approval will allow CMSD to build 20 to 22 schools and refurbish 20 to 23.
Chief Executive Officer Eric Gordon viewed the election's outcome as a sign of faith based on progress made by the District since voters approved Issue 107, a 15-mill operating levy, in 2012. But he said much more work lies ahead.
"With that trust also comes responsibility," Gordon said. "We have shown gains in our District over the last two years since Issue 107 passed, and I know that we can continue and, in fact, accelerate those gains."
Mayor Frank Jackson sounded a similar theme when he addressed supporters Tuesday night at the Ariel International Center.
"A big thanks to the people of the city of Cleveland for voting," he said. "They've given us all we've asked for. Whether it was in the academics side, financial side, they've given it. So, now it's on us. We just greatly appreciate their confidence in the school system."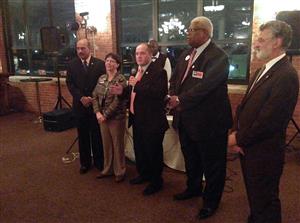 Issue 4 will not increase taxes, and the state will contribute more than $2 for every $1 the District spends on new construction.
The new projects will round out a building program that began after the gym roof at the former East High collapsed 14 years ago. Since then, the District has built and renovated 41 schools.
The additional projects will allow CMSD to provide all children with a learning environment suitable for a 21st Century education. (Photo, at left, Campaign Chair Terry Butler jots down the key numbers Tuesday night as consultant Bill Burges relays them by phone.)
It also will help the District create new school models and provide every neighborhood with access to a quality option, promises made in The Cleveland Plan, a state-approved blueprint for reform.