Return to Headlines
MetroHealth, CMSD look to add clinics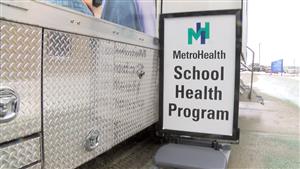 CMSD NEWS BUREAU
1/7/2015
Jan. 7, 2015 -- District CEO Eric Gordon dubbed the new
MetroHealth
mobile school health clinic vehicle a "miracle on wheels" before it was shown off Wednesday afternoon by the hospital system, Cleveland Foundation and the school district.
It's a miracle that just keeps on growing.
The 236-square-foot converted recreational vehicle is now bringing medical services to students at eight different CMSD schools, thanks in part to a recent $750,000 grant from
The Cleveland Foundation.
Three other schools are served by an in-school clinic at Mound STEM.
That's already 11 schools with enhanced health care, but the hospital system intends to double its total CMSD coverage to 22 schools by next school year, said MetroHealth CEO Akram Boutros.
But even while laying out the expansion, no one gathered Wednesday in a MetroHealth conference room said they were yet satisfied.
Instead, nearly everyone talked about what could be down the road: quality student health care in every one of about 100 District schools.
Boutros said that goal -- whether care is provided by MetroHealth or other institutions such as the Cleveland Clinic, University Hospitals or others – is achievable.
"Our mission is to lead the way to a healthier community; our goal is to make sure that every child in CMSD had access to care through this program," Boutros said. "I'm looking forward to the other systems joining us someday soon."
It's already starting to happen on a smaller scale: Community partner Neighborhood Family Practice plans to open clinics later this year in two other CMSD schools: Thomas Jefferson International Newcomers Academy and Max S. Hayes High School.
Origins of program, diversity of funding
MetroHealth's school health program was created by Dr. Christine Alexander, who said she first referred to the dream as a "shared delusion."

"And thank you all for sharing in that delusion," she said. "We're still gathering outcomes, but we know that already we are seeing a decrease in emergency room visits, better care for students with asthma and vaccinations being updated."

She also credited CMSD nurses and teachers for embracing the MetroHealth program.

"We are so blessed in so many ways," she said. "It is only because of the relationship we have in the school district that we can be successful."
The Cleveland Foundation grant late last year followed initial support from the George Gund Foundation, Third Federal Foundation, The Eaton Corporation Charitable Trust, the Ginn Foundation and several individual donors. MetroHealth has also received gifts from the United Way, the Medical Mutual of Ohio Charitable Fund, the Callahan Foundation and others, Boutros said.
Cleveland Foundation President and CEO Ronn Richard on Wednesday complimented Boutros and Gordon for the collaboration, saying that "good leadership attracts good funding."

"I cannot think of any grant we've given that is more important than this," he said. "Education has the potential to open the door for all of our children. For that door to open, the children need to be in school every day and need to be in optimal health so they can learn."
Last school year, the hospital system opened an in-school clinic
at Mound STEM PreK-8 School
in the Slavic Village neighborhood, followed by a
mobile health clinic
at Lincoln-West High School
.
MetroHealth now serves
eight schools with the $400,000 mobile unit. Besides Lincoln-West, those include John Adams and Garrett Morgan School of Science high schools and Anton Grdina, Harvey Rice, Luis Muñoz Marin, Miles Park and Walton elementary schools.
The clinic located inside Mound also serves students from Willow and Fullerton elementary schools.
Key to success: student participation
Alexander did say that student participation is still only slightly more than 50 percent, but it is continually rising as more families sign the necessary consent forms necessary.
Initially, only about a third of Mound students and 20 percent of Lincoln-West students took advantage of the services last school year, hospital officials had said.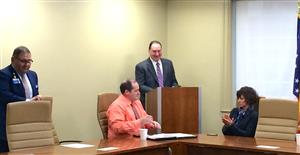 Boutros and Alexander said the program addresses health goals, education goals and long-term community goals as the students take health-care education back to their families.

Gordon said there is another vital desired outcome: social justice for families who have not had access to quality health care.

"This is not just philanthropy, this is not just helping schools, but this is a smart business decision for everyone," he said. "We know that school reform nationwide is a toss-up until we invest in the kind of 'wraparound strategy' that this very program demonstrates. Then it can and does work, and we can measure that."

The goal of the MetroHealth program is to increase Cleveland students' access to health care services, which will keep them in school by keeping them healthier.
The medical services are designed to help reduce chronic absenteeism that interferes with education and to supplement the work of District nurses who are stretched thin rotating among 90 buildings. Alexander has said that many CMSD students miss an entire day of school to go to a doctor's appointment, if they go to the doctor at all.

The clinic and mobile unit is open to students a half-day per week. A physician or nurse practitioner and medical assistant offer services such as urgent care, immunizations, sports physicals and basic lab tests. A mental health professional will provide referrals for those services.

Medical treatment is free for students, if they are not covered by insurance.

MetroHealth, which has helped a number of the students' families obtain health coverage, picked schools near the system's medical centers in hopes the families will regularly visit those facilities. Many Cleveland families turn to hospital emergency rooms for routine care, officials said.