Return to Headlines
Cardale Jones tells world: Education more valuable than instant NFL fame (video)
CMSD NEWS BUREAU
1/16/2015
In his brief and unbelievably successful three-game college run, Ohio State quarterback and CMSD graduate Cardale Jones has become an almost mythical figure, taking the Buckeyes to an improbable and stunning national championship Monday night.
But on Thursday afternoon, it was Cardale Jones the student -- not the superstar athlete -- who stunned the sports world once again.
"I'm going to return to Ohio State to get my degree," Jones said from the podium to a visibly surprised group of reporters, photographers and videographers representing media outlets from across the country. Most
experts had predicted – even encouraged
– the big quarterback with the big-time arm to go pro and collect the millions of dollars that were likely his to claim.
Instead, in one, soft-spoken, understated announcement, Cardale Jones put the
student
back in student-athlete.
"And, in a way, he put a price on getting an education," said Cleveland school District CEO Eric Gordon. "In making this very conscious decision, he left the amount of money on the table that he would have received from being drafted by an NFL team to go back and finish his education. He could not have said it better."
The 6-foot-5, 250-lb. quarterback seemed as rattled by the weight of his decision Thursday -- the last day college athletes could declare for the NFL draft -- as he was while leading the Buckeyes to victories over Wisconsin in the Big 10 Championship, over No.1 Alabama in the playoffs and over Oregon on Monday night in the National Championship game.
Which is to say: Not at all.
"I don't know why you all are making such a big deal out of this," Jones said at one point, drawing laughter from the crowd at Ginn Academy, his alma mater. "The NFL after three games was out of the question for me. It was a simple decision."
Flanked by his family and friends, including his infant child, Jones spoke directly and succinctly, acknowledging that it is "every athlete's dream and goal to play at the next level" but adding that he would like to be a financial planner as a career after football.
District Athletics Director Leonard Jackson welcomed the crowd to Ginn, referring to the all-male school as "the village that helped raise Cardale Jones."
On at least three separate occasions, Jones also drew comparisons between the glamour and allure of an NFL career with the necessity and wisdom of finishing his education at Ohio State.
"My education is going to take me much farther than my athletic ability," he said Thursday. "My education is 10 times more important than football. When I go to the NFL, I want to be through with school."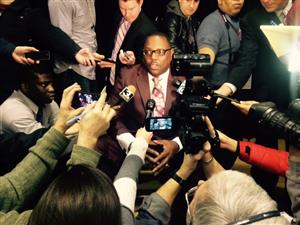 Ted Ginn Sr., his mentor and coach at Glenville High School, did not speak during the announcement and instead remained in the background.
But he had met with Jones and OSU coach Urban Meyer throughout the day and said after the announcement
what he had been saying for more than a month
as Ohio State began its title run: Jones has matured into a young man who is now a leader.
"I'm proud, very proud," said Ginn, who has sent more than a dozen players from Glenville to Ohio State and several to the NFL, including Heisman Trophy winner Troy Smith, his own son Ted Ginn Jr. and Cleveland Browns safety Donte Whitner.
"This is the example and hope for the other kids, not just the athletics, but the schoolwork and the discipline to keep changing and growing. That's the way we we try to do the things we do at Ginn Academy."
The Ginn Academy way has been starting to get national attention as one piece in the larger transformation of the Cleveland school district. Ginn Academy was
featured in an October column
by Washington Post columnist Michael Gerson and was again in the spotlight during the run-up to the National Championship.
CMSD Board of Education Vice Chair Louise Dempsey said Jones is the perfect ambassador for that transformation.
"He said everything in a few short words up there about the culture change that CMSD is all about," she said.