Return to Headlines
MetroHealth staff mentor Lincoln-West students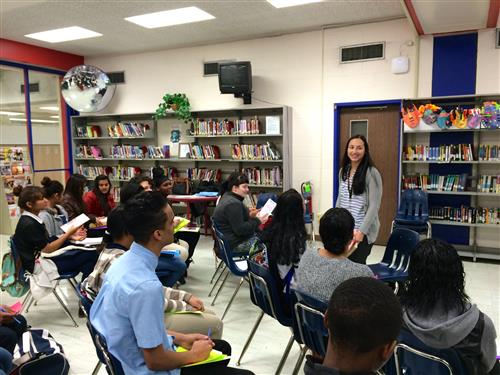 CMSD NEWS BUREAU
1/22/2015
Looking at the young faces of the two dozen Lincoln-West juniors peppering a pair of MetroHealth Medical Center employees with questions Tuesday afternoon, it was not too difficult so see some future health workers in the group.

In fact, they have a pretty good chance of landing such careers.

A partnership between the District and MetroHealth is expanding into new and meaningful areas, including a two-year mentoring initiative that will result in students gaining internships with the hospital system and possibly even jobs after high school.

"We're focusing on talent, sort of a pipeline development, but also just on investing in our local community," said Keisha Herbert, an inclusion and diversity coordinator at the hospital and one of the speakers Tuesday.

"Lincoln-West is a great school, an international school, and we see a real value in making this an opportunity for career development for its students."
Lincoln-West is perhaps the District's most diverse school, with dozens of languages and ethnic groups represented.
Mentoring at hospital, at school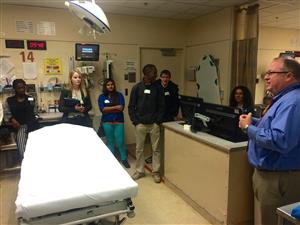 At that first meeting, MetroHealth CEO Dr. Akram Boutros told the students how an experience in adolescence changed his life and how the new program might similarly alter theirs.

The CMSD students will meet with MetroHealth speakers the rest of this school year, both medical and non-medical staff. They will then have a chance to work a three-week, paid internship at the hospital this summer, preferably in the areas they are most interested in.

Next school year, they'll each be assigned to a MetroHealth mentor who will meet with them monthly to help them get through their senior years and start planning a future, whether in college or on a job.
The 28 students who are in the program now came from a pool of about 70 juniors, a group whittled down by a committee of teachers and counselors. Javier said she hopes the program will expand to 40 juniors in the next round.

On Tuesday, Herbert was joined by Camille Garcia, a graduate of Lincoln-West and Cleveland State University who is now a community outreach coordinator for the hospital. The two told the students about their jobs and answered questions, work-related or not.

The program was moderated by Michelle Bennett, who works at the high school as part of an educational talent-search program for Cuyahoga Community College. The Tri-C program is focused on "helping low-income, first-generation potential college students see their future," she said.
"Every day I say to them when I come into the classroom, 'Today I'm going to remind you of your future,' " Bennett said.

Junior Jackeline Valladares said that message is starting to stick.

"It's beginning to seem more real," she said. "I hope to be a physical therapist or at least find out more about working in the medical field. It seems like any job you have at a hospital is helping someone, and that's what I want to do."

Makala Roche was intrigued Tuesday about the things that MetroHealth's Herbert did in addition to college before landing a job. Herbert, a graduate of Cleveland Early College at the John Hay Campus and Howard University, told the students that she had also worked as a Peace Corps volunteer in Guatemala.
"I'm focused on radiology, but I like to hear about other jobs, too," Makala said. "It's funny how they said that people go into college and end up coming out like something else. She (Herbert) did a lot of other stuff, and that was really interesting."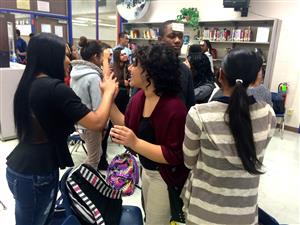 CMSD grads share experiences
Herbert had the students participate in an exercise to demonstrate how inclusion works in social and work settings. She had each student stick a label on his or her head with statements like "High-five me," "Smile" or "Turn away from me" to illustrate how people are included or excluded based on their outward appearance.

"So how did you feel when people turned away from you?" she asked the students who had been given the negative stickers.
"That's the hardest part of my job: when someone comes to me when they've been excluded or when we have someone who feels discriminated against because of their ethnicity or anything else."

Both Herbert and Garcia said they were able to see themselves in the students gathered around them Tuesday. Garcia even quizzed the students about which teachers have remained on the staff since she graduated a decade ago.

"It's so great to be back here and to be able to be a part of helping them think about their own futures," said Garcia, who also helps Hispanic patients navigate the system after they have been diagnosed with breast cancer.
Garcia's presentation focused on her work with breast-cancer patients, including her mother. She told the students that the hardest part of her job is when she has to translate for an English-speaking doctor to tell someone in Spanish that they have cancer.

"I'm the one telling them, even though I'm just the translator," she said. "It's difficult to look someone in the eye and tell them."

All of the juniors are hoping to land internships at the hospital, but Bennett made it clear that the hiring standard will be stringent.

"This isn't something they just give away," she said. "You're all here, which is great, and some had an excuse to be late because they are in student council, but I saw some of the others in this program just wandering the halls instead of showing up. That's not going to do it, because you can't do that on a job."

Bronz Xavier Jackson, a serious young man who sat in the back, said he understood that point, but he also had a deeper motivation.

"I'm more interested in time management right now so all the work doesn't become one big, stressful mess," he said. "But I want to do the internship and get involved in physical therapy because I saw how it helped my mom out when she got hurt in a certain situation.

"I was able to help her out with her exercises, and I saw what a difference it makes. I want to do that for as many other people as possible."