Return to Headlines
From lunchroom to classroom: A paraprofessional's journey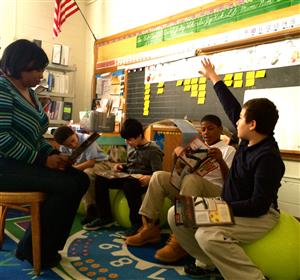 CMSD NEWS BUREAU
2/19/2015
Lataunya Downs isn't about to shortchange her future.
Only a month ago, the 43-year-old Cleveland resident was spooning out macaroni and cheese and other fare to students in the daily breakfast and lunch lines at Jane Addams Business Careers Center. She liked the job but longed to work more directly with the students.
Today, she's a paraprofessional, or teacher's aide, at Valley View Boys' Leadership Academy on the city's West Side, working alongside a special-education teacher. It was a change in classification that she believes is just the beginning.
Downs has her sights on eventually becoming a principal in the Cleveland Metropolitan School District.
And why not? The model for such an audacious dream is standing right in front of her almost every day: Valley View Principal Terrance Menefee also started as a CMSD paraprofessional 25 years ago.
"I did it, and she can do it," Menefee said, walking the halls of the all-boys school. "When I was a para, I knew I wanted to be teacher because I wanted to be able to do more, and she's the same way. This is a great opportunity and a great place to start."
District interviewing candidates
CMSD is in the midst of a paraprofessionals hiring initiative, recruiting candidates online and in person. Nearly 200 applicants attended a job fair Wednesday at the District's East Professional Center on Superior Avenue.
"We're thrilled to get so much interest, in part because we know this can be the first step for people in a career here at CMSD," said Kenya Hunt, one of eight human-resources employees who were at East on Wednesday.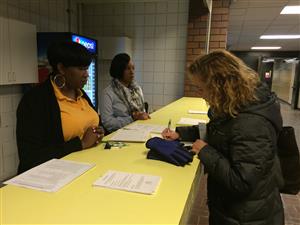 Hunt pointed out that two of those eight also started at the District as paraprofessionals until something more permanent became available and they were trained for new work.
Joyce McDonnold was one of those temps who has since taken a key role with the District.
"We're trying to make sure everyone who comes through the door in time fills out an application and has a chance to be interviewed," she said in a second-floor computer room where a half-dozen would-be employees were typing away on keyboards to complete the application.
Hunt said about 90 percent of the applicants so far have been Cleveland residents. "We've had some really impressive people come through the door," she said. "One of the applicants could speak French and Swahili, so they would be able to help in areas where we need many languages."
Hunt said she and the other HR representatives remind applicants that even if they only land a temporary job as a substitute paraprofessional, there may be other opportunities soon enough.
"We want them to reach for the stars, to imagine becoming more than a 'para' where they're starting," she said. "We'd love for them to imagine being a teacher or one of our principals."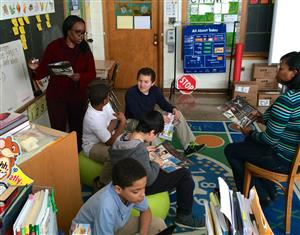 What a 'para' does
At Valley View, Menefee stopped in on the classroom where Downs was working with Kimberly Bradley, a special-education teacher.
Bradley started her teaching career as -- you guessed it -- a paraprofessional 14 years ago, first at a charter school, then at Valley View.
"The most important thing a para can bring to the classroom is to help develop the positive relationship with the students, and Lataunya does that," Bradley said. "Once the para and the teacher build the relationship, then everything else the teacher does falls into place."
Menefee agreed: "Paras bring it all together, the good ones do," he said. "The teachers are often so involved that it is a good para who has the soft skill pieces to bring it all together.
On Wednesday, Bradley had Downs lead four boys in a discussion about a handful of Time magazine news stories, including articles about electric cars and 3D printers.
Downs helped the boys not only with their pronunciation of difficult words, but with focusing on their work as they sat, often rocking, on oversized rubber balls and occasionally exchanged the insults specific to young boys.
Downs is a product of CMSD schools. She graduated from James F. Rhodes High in 1989, raised a family and only a few years ago began to work in food service at Valley View and then Jane Addams. She noticed immediately how drawn she was to helping students.
"Even when I was working in the lunch line, I missed the boys when I left, when I would go home," she said. "I like the students, they are young brothers to me. I like to see them grow."
Menefee said he saw that from the start and knew Downs could move into the classroom eventually.
"I believe that paraprofessionals are the life of the school district," Menefee said. "And I knew that Lataunya had the people skills, that she loved the kids even while she was working in the lunchroom here."
Downs said she believes she can go further because of the success of teachers like Bradley and because of the example set by Menefee.
"She's right here in the classroom with me every day, and he gave me the opportunity, opened the door for me and motivated me," Downs said.
She recently began taking education courses at Cleveland State University to start working toward her teaching degree.
She knows she is still a few years from becoming a full-fledged teacher, but she is not concerned about her age

"No, that doesn't matter," she said. "And a (bachelor of arts) degree won't be enough. I want to get a masters', too, if I'm going to do this right."