Return to Headlines
School of One, new bike keep student on track (video)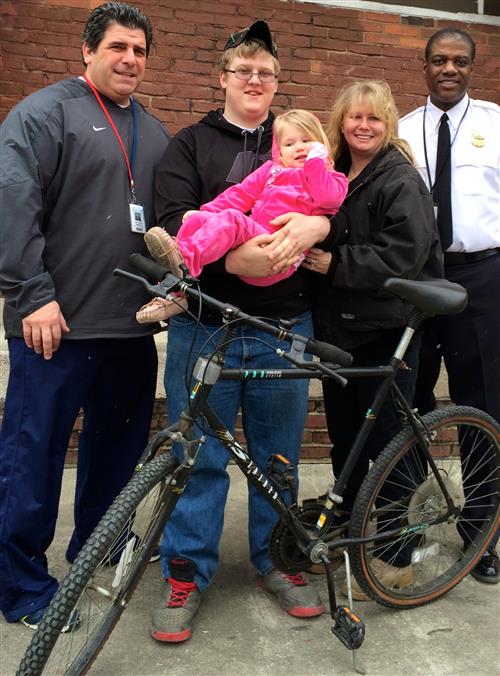 CMSD NEWS BUREAU
3/30/2015
CMSD, the Cleveland police and a local bike shop gave Edward Lee Hill II new bike on Friday, but the District's School of One program had already put him squarely on the road to graduation.
Edward, who had a bike stolen from the Lincoln-West High parking lot on March 16, credits his teacher at the school, a caring aunt and his newfound love of cycling for turning him into a better student -- one who is also now in much better physical shape.
CMSD Police Chief Lester Fultz presented Edward with his new bike. It was donated by the Cleveland Police Community Policing Division and
Joy Machines Bike Shop
in Ohio City.
(See photo, from left: School of One Teacher Anthony Simeone, Edward and niece Liberty, aunt Dianna Hill and Chief Fultz)
Fultz handed Edward a lock (Edward admitted: "I think I just forgot to lock it that day), and urged: "Just do one thing for me now that you have this bike: Finish school and graduate."
That's a day that Edward's aunt Dianna Hill didn't think she would see at several points over the last year.
First, in January 2014, Edward lost his beloved grandfather, who had been his guardian, then his driver's license after a car accident in May, and finally school. Edward said he was removed from a trade school in Belmont, Ohio, because of excessive absences.
His aunt says he
weighed
about 320 lbs., carried a grade-point average below 1.0, was failing miserably and feeling lost, she said.
"I had missed a lot of days because I was taking my 'Pap' up here to Cleveland for treatments," he said Friday. "Then, I was really upset when he died and didn't want to go to school as much."
He said he had started to ride his bike last summer while still living in central Ohio – "just to go fishing, that kind of thing," – but continued to ride after he moved to Cleveland in December.
That's when he landed at Dianna Hill's home on West 117th Street. With no car and no driver's license, Edward began to bicycle to the school on West 30th. His attitude and health were improving -- he has dropped nearly 60 lbs. -- but his schoolwork was still not very good, Dianna Hill said.
That's when Simeone, a CMSD teacher since 2001, stepped in.
"He was kind of lost in the shuffle at first, but once he realized that we cared about him, he came around,"
Simeone
said.
"The program here is a flexible credit program for kids who are just behind for some reason and who maybe don't fit into the traditional situations," Simeone said. "Eddy's a smart young guy. He just needed a hand."
CMSD's
School of One
program was
created in 2000, initially under an Ohio Alternative Education Challenge Grant,
to meet the needs of students who might drop out of school for virtually any reason. Advisors are in seven different District high schools and are each assigned to no more than 15 students.
The School of One advisors identify students
with barriers "limiting their success" and then develop individualized plans to break through those barriers and get the students on a path to graduate.
The school advisors work on the premise that "failure is not an option," according to the School of One web page. According to the page, the program uses innovative and supportive instruction, guidance and support from staff and careful monitoring of student progress in and out of the classroom.
Dianna Hill said her nephew benefitted from the one-on-one relationships that are possible at School of One. She said Simeone was one of the first people she called when Edward's bike was stolen because she was so upset and because Edward was "suddenly ready to give up again."
She said Edward's grade-point average is now over 2.8. She credits Simeone's efforts and that daily bike ride for turning her nephew around.
"That's why I was so upset when it was stolen -- it really threw him off again and he didn't want to go to school," she said.
Hill contacted school officials, who put her in contact with Fultz and the Cleveland police.
Fultz said he contacted Cmdr. Keith Sulzer of the city's Community Policing Division for help."I reached out to him as one of our partners because I knew he could help us make a difference," Fultz said.
"A lot of times we are able to do the big things, like
The Cleveland Plan
and other initiatives, but sometimes we're able to make a difference in the small things, too," he said. "And this small thing could be a big thing for Edward."
Edward now has his own plans. "I'm going to go to Ohio Technical College to learn to do classic car restoring," he said. "I like bikes, but I really like cars."