Return to Headlines
ACE awards $99,000 in scholarships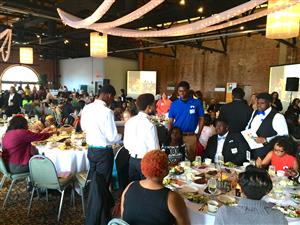 CMSD NEWS BUREAU
4/21/2015
The Cleveland affiliate of the ACE Mentor program awarded $99,000 in scholarships to CMSD high school seniors during the organization's annual banquet Tuesday at Windows on the River.
ACE stands for architecture, construction and engineering. The mentoring program, which is designed to motivate students to pursue careers in the industry, operates in 60 cities across the country.
This year in Cleveland, 95 mentors from design and construction companies have mentored 120 students from the John Hay Campus and New Tech West, East Tech, James Ford Rhodes, Max S. Hayes and Collinwood high schools.
ACE students attend classes with their mentors for two hours every other week for about 15 weeks and learn about the design and construction industry.
The students also take field trips to construction sites and local businesses and work on design projects that are presented at the banquet. Students from the six schools showed off their design projects to family, friends, mentors and school officials at the banquet hall Tuesday evening.
This year's focus was on developing designs, strategies or policies for water management and conservation, specifically in relation to Northeast Ohio.
Margaret Bernstein, director of advocacy and community initiatives at WKYC spoke at the event and District CEO Eric Gordon introduced CMSD teachers involved in the program.
Support for the scholarships comes from University Hospitals, the Cleveland Foundation, Kent State University's College of Architecture and Environmental Design, the University of Akron College of Engineering, Cuyahoga Community College and eight companies and organizations in the design and construction industry: Gilbane Building Co., Turner Construction, the Construction Employers Association, Independence Excavating, Rudd Equipment, Regency Construction Services, the Chas. E. Phipps Co. and the National Association of Women in Construction.