Return to Headlines
Hundreds of CMSD students compete in Mock Trial (video)
CMSD NEWS BUREAU
4/24/2015
Hundreds of CMSD students donned their power suits, grabbed their briefcases and made their cases with gusto Friday during the District's annual Mock Trial competition at the Cuyahoga County Justice Center.
Winners in areas such as best prosecutor, best defense attorney, best witness and best written brief are expected to be announced next week. Students, teacher-coaches and their professional legal partners said Friday that the experience was beneficial to students from more than a dozen CMSD high schools.
The four top students in the writing competition will receive summer internships at the Justice Center, said Sara Humphrey-Bekhouche, a teacher at Cleveland Early College High School at the John Hay Campus, who brought two teams to the competition. Early College squad was the defending champ, taking home the most winners in 2014.
Humphrey-Bekhouche said Mock Trial helps prepare students who might end up working in the legal system, but it also has a broader benefit.
"It helps all of them improve their writing skills because they have to come up with an opening statement and closing argument," she said. "They learn poise, speaking skills, enunciation and so much more."
SuccessTech Academy Principal Sara Kidner, who also brought two teams to the competition Friday, agreed.
"Students get to actually engage in the civic process in Mock Trial," Kidner said. "They end up with a full understanding of how it all works and they work with county prosecutor volunteers in advance of the actual trial. We also talk about other roles in the court system, being court advocates, social workers, helping others through the process."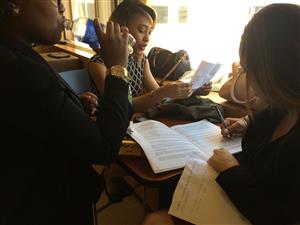 The CMSD students were clearly engaged Friday, enthusiastically debating their cases not only in the courtroom but during the lunch hour. They swarmed the fourth-floor cafeteria for food and drink but also to continue poring over their notes and digging through their case files.
(See photo, right)
"I didn't think that I wanted to consider a career in law necessarily, but this has been so much fun that I might," said Grace Hunt, a sophomore at SuccessTech.
Lydia Johnson, a senior at Early College High School who was named best prosecutor in 2014, said the Mock Trial competition has sharpened her skills and increased her confidence.
"Oh, definitely," she said. "It has really pushed me into thinking critically and clearly. I love Mock Trial because it's so real, because it makes us think and because we have to learn quickly."