Return to Headlines
'Johanna: Facing Forward,' plays through Saturday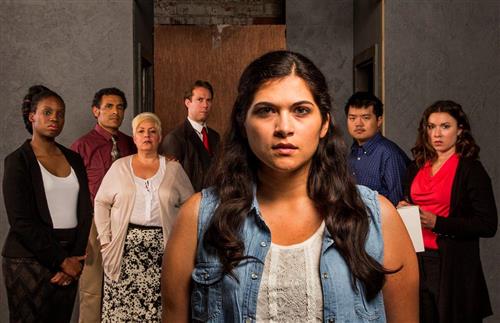 CMSD NEWS BUREAU
6/8/2015
The stage drama "Johanna: Facing Forward" continues this week at Cleveland Public Theatre, roughly eight years since Johanna Orozco and the rest of her Lincoln-West High Class of 2007 had endured an all-too real and nightmarish senior year.
Several classmates had already died in accidents that school year and a teacher at the school had passed away after an asthma attack, according to news reports at the time. Then came the March 5, 2007, shooting of Johanna by her then-boyfriend Juan Ruiz Jr.
That tragedy and the inspiring journey back to wholeness are the subject of "Johanna: Facing Forward," a play written and directed by Tlaloc Rivas and based on the award-winning stories by Plain Dealer reporter Rachel Dissell and Orozco's own journal entries.
CPT says the story is about a Cleveland teen who not only survived a gunshot wound to the face but also sparked a nationwide movement against teen domestic violence.
"Johanna's story is complex and raises critical questions, but it is also a life-affirming story of triumph," CPT says on its website.
The production runs at 7:30 p.m. tonight, Thursday, Friday and Saturday at the theater, 6415 Detroit Ave. Saturday's performance will end a run that began May 28.
Tickets are
$12-$28 and available online at
www.cptonline.org or by calling 216-631-2727 ext 501. The shows tonight and
Thursday are just $12.
CPT also offers a "Pay What You Can" policy for patrons with limited financial means. For more information, inquire at the box office.
The actors include Tania Benites (as Johanna Orozco), Becky Aviles, Andrea Belser, Courtney Brown, Arthur Chu, Jason Estremera, Leticia Lopez, Gilberto Peña, Alejandro Rivera and Blanca Salva.
You can also read more about the production on the CPT website: http://www.cptonline.org/performances/seasons/2014-2015/johanna-facing-forward/