Return to Headlines
Ernst & Young awards $19K in scholarships to CMSD grads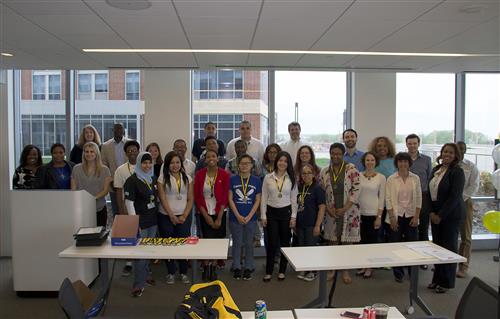 CMSD NEWS BUREAU
6/4/2015
Six seniors at CMSD's Garrett A. Morgan School of Science received a total of $19,710 in scholarships from Ernst & Young LLP's College
Mentoring for Access and Persistence (MAP) program
. The awards were presented to students on May 18 at the Cleveland offices of Ernst & Young.

Nearly 30 District students were involved in the College MAP program in the 2014-15 school year. Ernst & Young employees serve as mentors to students and help them commit to the transition to college.
According to the company, the program was launched as a pilot in 2009 and has expanded to more than two dozen cities, including Cleveland and other large urban districts such as Atlanta, Boston, Chicago, Detroit, New York and Los Angeles.
The program is having an impact – more than 90 percent of students who have participated in College MAP have enrolled in a two- or four-year institution, according to company figures.

The College MAP curriculum includes monthly workshops, college visits, and tutoring tied to financial skills aimed at helping students succeed in college and make the most of their financial futures in general.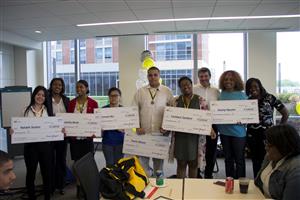 Ernst & Young began working with Garrett A. Morgan students in 2013
In the photo are (from left): student Natalie Suarez; Mona LaMar, College MAP Program Director, Associate Director, Americas Advisory Talent; student Donetta Monk; student Kim Bui; student Travis Bloom; student Candace Sanders; Jeffrey A. Kocsis, College MAP Program Director, Associate Director, Assurance IT Service Delivery Manager, Americas IT Services; Michelle Horne, Counselor and College MAP Liaison, Garrett Morgan School of Science; and Ciera Crawford Hill, College MAP Program Director, Senior, Human Capital Practice.
Not in the picture are student Quang Nguyen and Mary Beth Beck, College MAP Executive Sponsor, Partner, Assurance Services.
"It felt great to hand out scholarships to these very deserving seniors," said Mary Beth Beck, executive sponsor of the Ernst & Young College MAP program. "We've been able to watch the students grow over the past few years, and now with the scholarship money, we can continue to have a positive impact on their education."

Cleveland College MAP program directors Mona LaMar, Ciera Hill and Jeff Kocsis were also to award the scholarships.