Return to Headlines
80 percent of parents visit schools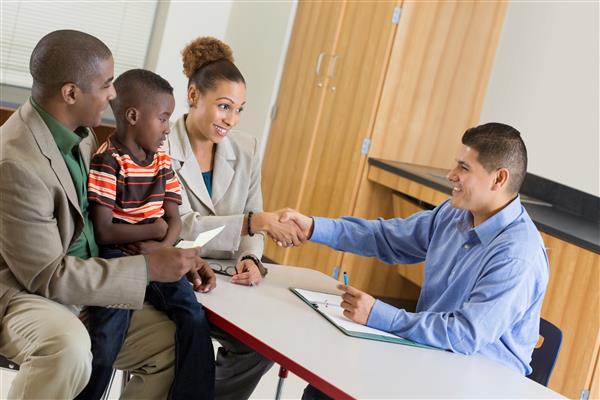 CMSD NEWS BUREAU
6/16/2015
Eighty percent of CMSD parents and caregivers had face-to-face contact with their children's teachers during the 2014-15 school year, according to District data.
The participation in parent-teacher conferences increased from 73.2 percent in the previous school year, the first time the data was kept. A breakdown shows the figure was 85.3 percent for K-8 schools, up from 77.6 percent, and 67.6 percent for high schools, up from 63.2 percent.
The District will focus on increasing participation at high schools during the coming year, said Tracy Hill, executive director of CMSD's Office of Family and Community Engagement. But she said the overall numbers "totally dispel the myth that CMSD parents and caregivers don't care and are not engaged."
"Our parents care deeply about their children's education and are working with our educators to create a culture of collaboration and partnership in our schools," she said. "Our educators should be commended for their exceptional outreach and engagement of our families."
House Bill 525, the state law that authorized the education reforms in
The Cleveland Plan
, calls for all CMSD parents and caregivers to meet with their children's teachers at least once a year.
The meetings are supposed to occur by mid-December, but the District continues to encourage compliance after the deadline.
CMSD has worked to increase participation by making the parent-teacher conferences more convenient and more meaningful.

With agreement from the Cleveland Teachers Union, the District added evening conference hours. Schools also provided parents and caregivers with individual student data and other substantive information.
State Sen. Sandra Williams of Cleveland, then a member of the House, pushed for the HB 525 provision. She said she is "grateful for the strides we've made thus far" and encouraged parents to stay in contact with their children's teachers.
"Parents have an important role to play when it comes to their child's academic success," she said. "The parent is the prime educator and role model in their child's life, so it's imperative that they engage in their schooling — as opposed to sitting back and letting the teacher handle it all. The parent-teacher meetings are a great opportunity to communicate with a child's teacher and hear how their child is tracking academically and socially relative to their classmates."