Return to Headlines
19 new principals assume their duties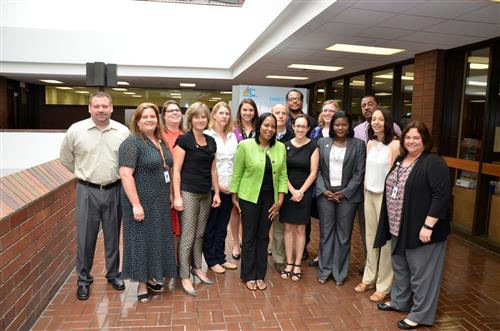 CMSD NEWS BUREAU
7/1/2015
Principals are the "single most important factor in our work," Chief Executive Officer Eric Gordon said Wednesday as he greeted a roomful of new CMSD principals.
Wednesday marked the start of the CMSD fiscal year and the first official day on the job for 19 principals who have never before served the District in that role. With a few slots remaining to be filled, nearly a fourth of the District's schools could see changes in leadership, mostly because of retirements.
Gordon reminded the group that they are joining a system that is undergoing radical reform under
The Cleveland Plan
and shifting the bulk of responsibility for hiring, scheduling and spending decisions from the central office to the buildings, where the people know best what their students need. He expressed confidence that his audience was up to the challenge.
"There is not a principal who is here with my reluctance," he said during an orientation session at the East Professional Center. "If you don't make it past me, you don't make it."
Gordon said the principals cannot grow complacent because families are able to choose not only from varied CMSD options but from dozens of charter and -- with the help of state vouchers -- parochial schools.
The Cleveland Plan, particularly its emphasis on choice and developing a portfolio of school options, is what drew Sherie Turner, the new principal of Franklin D. Roosevelt School, to the city. Turner worked five years as a principal in Saginaw, Mich., before serving a year as an assistant principal at CMSD's Cleveland School of the Arts.
"Choice is important in a child's academic development," she said. "Some of them already know what their talents are and some of them don't."
Turner said she is excited to join a school that has improved its culture and acts as a hub in the Glenville neighborhood, partly because there is a full-fledged Boys and Girls Club in the building.
"We're doing great things," she said. "We're going to continue to refine what we're already doing."
Serving as a CMSD principal is an honor and a privilege, former Tremont Montessori Principal Heather Grant told the group. Grant, who will be in charge of providing support for the new leaders, emphasized the special part they play in a child's education.
"You're making or breaking people's lives," she said. "You are affecting the future of our city."
The other new principals include:
Marc Aden, Promise Academy, a dropout-recovery program operated like a charter
Marisol Burgos, Thomas Jefferson International Newcomers Academy, for refugees and new immigrants
Brandee Carson-Jones, Case School
Chelsey Cook, John Marshall School of Information Technology
Katherine Coverdale, Hannah Gibbons STEM School
Katie Francis, Orchard STEM School
Wendy Geiling, Newton D. Baker School of the Arts
Susan Harvey, George Washington Carver STEM School
Dawn Hayden, Willson School
Tom Kubiak, Joseph M. Gallagher School
Feowyn Mackinnon, MC2STEM High School
Amy Mobley, William Cullen Bryant School
Melanie Nakonachny, Mary M. Bethune School
Michelle Person, Memorial
Anne Priemer, Oliver H. Perry
Timothy Primus, John Marshall School of Engineering
Kelly Whitman, Max S. Hayes High School
Bill Wingler, Louis Agassiz School