Return to Headlines
Jane Addams grad is chef for top Army officials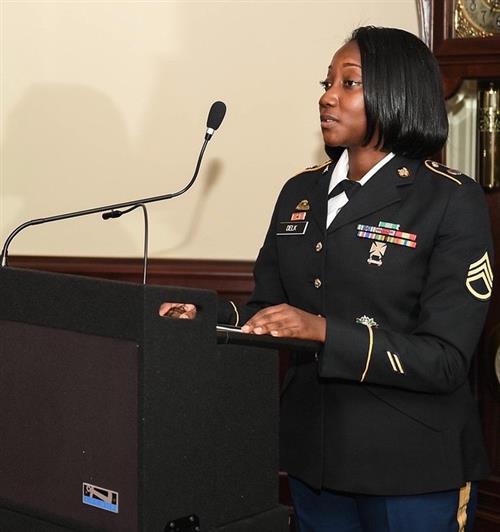 CMSD NEWS BUREAU
12/12/2017
Beverly Delk starts her days at 3:30 a.m. with a five-mile run around the Lincoln Memorial Reflecting Pool on the National Mall in Washington, D.C.
She works out for another hour and then heads to work at the Pentagon, the headquarters of the U.S. Department of Defense.
SSG Delk, 27, is an E-6 sergeant in the Army and her job is to cook for the top ranking military officials, earning medals and making connections with powerful leaders along the way. Her journey to the Pentagon began in the culinary arts program at Jane Addams Business Careers Center.
Delk is part of the 15-member crew that cooks for the Army Chief of Staff, Vice Chief of Staff, Secretary, Under Secretary and other presidentially appointed civilians who work in the military.
Each day, Delk or a member of her team visits the farmer's market to buy fresh meat, vegetables, herbs and other ingredients for the day's breakfast and lunch menus. Then she and her colleagues get to work chopping, stirring, seasoning, baking and serving.
The dining wing is set up like a restaurant, with a kitchen, top-of-the line equipment and a dining room stocked with fancy china. The kitchen staff takes on the roles of both cooks and servers.
Because of the small size of the operation, the officials she cooks for are familiar with Delk and her team members. They have often recognized Delk for her work and presented her with a coin of excellence, a coveted military honor that is difficult to earn.
"It's interesting to be around that much power," she said. "I'm around the people who actually make the decisions that affect the day-to-day life of a soldier."
The small scale of the Pentagon dining operations also makes for an environment of creativity and attention to detail.
"Here, we get to really hone in on our craft because we serve around 10 people a day," Delk said. "We are privy to whatever they want. It gives us time to be creative and invent things."
Delk's work environment wasn't always like this. When she first joined the Army and decided to pursue the culinary path, she started out cooking for soldiers stationed at Fort Lewis in Washington state. It wasn't until she participated in a culinary competition at Fort Lee in Virginia that she gained recognition from Pentagon officials. Her skills earned her two medals and caught the eye of an official who came to the competition to scout for budding, talented chefs.
She was offered a position and accepted it immediately. She went on to complete and pass a five-week advanced culinary class that she passed after successfully cooking a seven-course meal.

Delk is in the last year of her three-year rotation at the Pentagon, but she has been offered a job with a three-star general when her rotation ends.
Enlisting in the Army wasn't always Delk's plan. After she graduated from high school, she enrolled in Cuyahoga Community College but decided a year later that it wasn't for her. Coming from a military family -- her father and brother are both in the ranks -- the Army seemed like a natural path.
"I knew automatically once I joined that I wanted to be a cook," Delk said. "There was no question about any other job."
Jane Addams left lasting impact
Delk knew she had skills in the kitchen after taking a culinary arts class at Jane Addams. She credits her teachers Renee Mueller and Michael Szalkowski -- the latter is still teaching at Jane Addams -- for helping her discover her talents.
"They were really good teachers, and they instilled in me that cooking was a really good craft to have," Delk said. "Even back then, I felt like I was good at it and knew that if I had more training that I could take it to the next level."
Szalkowski taught Delk for three years at Jane Addams and remembers seeing her talents begin to blossom during her senior year.
"That was when she found her niche and her groove," Szalkowski said. "She's very impressive. I always knew she was a good kid and good things were going to happen for her."
Delk recalls taking two buses from northeast Cleveland to get to school every day. Being able to learn culinary techniques and put them to use in The Executive Grille, the school's student-run, public restaurant, made it worth the trip.
"It kind of gave me a purpose to be in school," Delk said. "I love that Jane Addams gives students a chance to hone in on their business side instead of just getting the basic fundamentals to get you to college."
Delk has been back to visit Jane Addams numerous times since graduation to talk to Szalkowski's students about her career path and offer advice for finding success after high school.
Last time she visited, in September, she announced that she would be launching a scholarship program for Jane Addams seniors. Delk plans to give out two $1,000 college scholarships to graduating seniors whom she would also mentor.
"I saw that there was a need for something and that God placed it in my heart to give back," Delk said. "I have resources and advice that they don't have, so I hope it will turn into something more than just the money."
Delk also gave out her phone number and email address, which she says the students have been using liberally. Her inbox has been blowing up with requests for advice about joining the military or an ear to listen to their concerns, along with essay submissions for the scholarship.
"When you say you can reach me at any time, they really do want to reach you at any time," Delk joked. "The response has been overwhelming, but I enjoy it because it means they heard what I said and they're paying attention now."
The scholarship-mentorship program is just one way Delk wants to give back to her alma mater. She also invited 20 students and five teachers to visit Washington, D.C., in March to take a tour of the Pentagon and other local landmarks. She plans to pay for the whole trip.
Delk is driven by a desire to give back and a genuine love for all things culinary.
"It's my passion," she said. "I love mixing flavors. I love trying new things. I love the smell of fresh food. I love to see the facial expressions people make when you make something good."
Her specialty is Italian, including fresh pasta and homemade sauce. One of her favorite meals she made recently was four-cheese lobster and crab ravioli with sundried tomato Alfredo sauce.
Delk has already accomplished a lot. Not only did she go through boot camp and then climb six ranks in six years, she has also earned an Army accomodation medal, four Army achievement medals, two good conduct medals and more ribbons than she can count.
She is not stopping. Her ambition is to become Sgt. Major Delk and to eventually run the U.S. Army Quartermaster Corps at Fort Lee, the branch of the Army responsible for food service and several other support areas.
"I'm only 27, so this is only the beginning," she said.