Return to Headlines
CMSD Media Day showcased journalists of all ages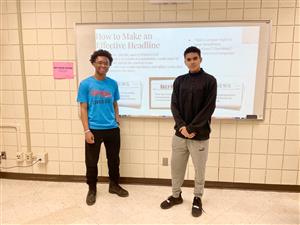 Chardon and Abdullatif, 11th graders at Cleveland School of Science and Medicine, spoke at CMSD Media Day
Chardon is an 11th grader at Cleveland School of Science and Medicine. He is also a budding professor of journalism.
On Tuesday, February 14th, he and a classmate, Abdullatif, led an extraordinary panel discussion on the modern history of journalism, and how the press has historically held governments accountable to citizens.
"It was the Washington Post that revealed President Richard Nixon's involvement in the Watergate Burglary," Chardon told a room full of students. They had come to hear him speak of ways that CMSD students can elevate their voices on issues that concern them.
"It was the Cleveland Plain Dealer that told the story of untested rape kits, which allowed rapists to stay out of jail," he said, recounting the story of how a law enforcement failure to test rape kits allowed rapists to roam free for years because police failed to test their DNA.
While these two examples show the necessity of a vigilant press, the state of modern journalism is said to be in rapid decline.
Perhaps it is. To help change this discouraging narrative about journalism, the Cleveland Metropolitan School District hosted its second annual Media Day on February 14th.
Along with Chardon, more than 200 students gathered at the East Professional Center, to learn about an array of career possibilities in journalism, corporate communications, podcasting, and public relations.
The event was a major success, according to Gayle Gadison, CMSD's Social Studies Program Manager, who helped form and recruit an impressive lineup of communications professionals to host seminars. Well-known local media personalities held break-out sessions for students, sharing stories about their careers and the challenges they face creating content that is informative, engaging, and responsible.
The event started with breakfast, which was followed by a powerful keynote address by Shana Black, Program Manager for Inclusive Journalism at the Associated Press.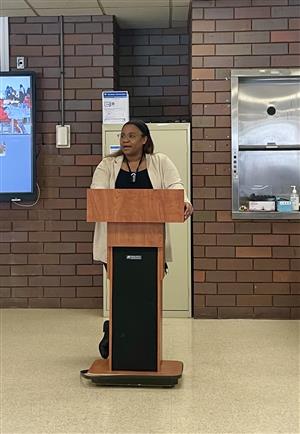 Shana Black gave the keynote address at CMSD Media Day
Black taught and worked as an Assistant Principal at Glenville High School before switching careers several years ago to chase her lifelong dream of a career in media. Black spoke about the need for students to visualize a career path and to strive to achieve one's dreams.
"Never lose sight of your dreams," she told the students.
"Your dreams will stay with you and perhaps haunt you, but never give up on them."
"If you care about social justice, the environment, entertainment, you can find a career path in media that can help you explore all of these passions. Start creating content for your portfolio now," Black told the audience.
Nella, a senior at Campus International High School, and a member of Unsilenced Voices -- a blog for CMSD students – is already following that advice.
"I love reading, and my goal is to eventually work as an editor for a major book publishing company. I want to edit works of fiction," said Nella, who plans to major either in Journalism or English.
Perhaps the best testimonial about the lasting impact of the Media Day event came from a professional in attendance -- not a student. Mark Puente is a highly regarded reporter with The Marshall Project, a nonprofit, online journalism organization that focuses on issues related to criminal justice. Last year, however, when Puente spoke at Media Day, he was not a journalist. He had switched careers to become a corporate communications professional.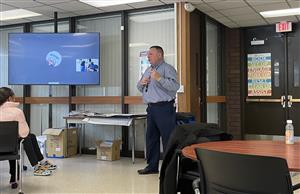 Mark Puente, a reporter with the Marshall Project, spoke at CMSD Media Day
He had walked away from a nationally noted career with several newspapers, including the Cleveland Plain Dealer and the Los Angeles Times, to become a corporate spokesperson.
After speaking with students at last year's Media Day event and answering their probing questions, he said he realized he missed being a journalist and rethought his decision to switch careers.
"The students made me realize how much I missed my true passion: pursuing truth and justice. The (CMSD) students rekindled my passion for journalism. They are the reason I'm back in the industry," said Puente, who has twice been a finalist for the Pulitzer Prize.
Gayle Gadison, who was in perpetual motion during the 4.5-hour event, beamed with pride as she described what she witnessed happening during the course of the day.
"This event highlights for students the importance of a free press. Just as importantly, this event provides us with the opportunity to impress upon motivated young people that they can become an important part of communication platforms that are essential to the nation's survival," said Gadison.