Return to Headlines
CMSD grad brings Morehouse event to the District (VIDEO)
When the Morehouse Get on the Bus Tour pulled into the East Professional Center earlier this spring it was a homecoming of sorts for seniors Mark Nichols and Douglas Burnett.
This trip was years in the making for Nichols, a 2019 graduate of John Marshall School of Engineering, and Burnett a graduate of Willoughby South High School. The two met as college Freshman.
"We want other students to see how Morehouse has changed our lives," said Burnett.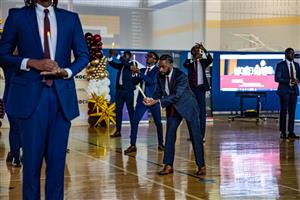 Their dream became a reality when more than 50 young men from Morehouse College, one of the most prestigious Historically Black College and Universities (HBCUs) in the country and one of only four men's colleges in the nation, performed a mesmerizing compilation of dramatic monologues and artistic interpretations of the core pillars and beliefs that lead to success.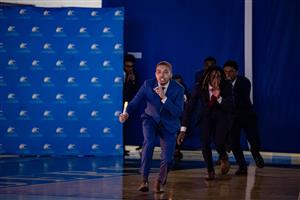 Nichols and Burnett said they want to give back to their community and let young students know college is within reach.
"I had my challenges growing up," said Nichols. "But Morehouse changed my life. I am not the same person I was in high school."
During the student summit, the men of Morehouse, which is based in Atlanta, held several workshops, including sessions on community activism and networking for the more than approximately 800 CMSD young men who attended.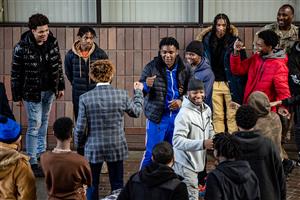 Nichols credits a Say Yes Cleveland scholarship for giving him the chance to attend Morehouse and to develop a network of great mentors.
"I am graduating college debt-free with a six-figure job offer," said Nichols. "Say Yes potentially changed the trajectory of my family's life forever."
The Men of Color Shaping Academics or MOCHA co-hosted the event, and also conducted workshops that included a seminar on financial literacy, and another that outlined ways for students of color to develop successful strategies for personal and professional success.
"These students are able to see men of color throughout the district who care about them and want them to succeed," said Anthony Brown, a coordinator with CMSD's Family and Community Engagement Department.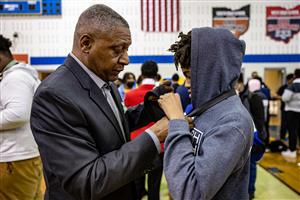 The day ended with the non-profit 1,000 Ties donating ties to those in attendance so educators could teach students how to tie a tie. 1,000 Ties is a national mentoring program that teaches young men confidence. The program is dedicated to the notion that cycles of generational poverty can be broken by something as simple as teaching a young man how to tie a tie.
"It was empowering to see other Black men in a suit and tie," said Daniel, a ninth grader at Ginn Academy. "It made you feel proud to be Black."