Return to Headlines
Two more schools get Boys and Girls Clubs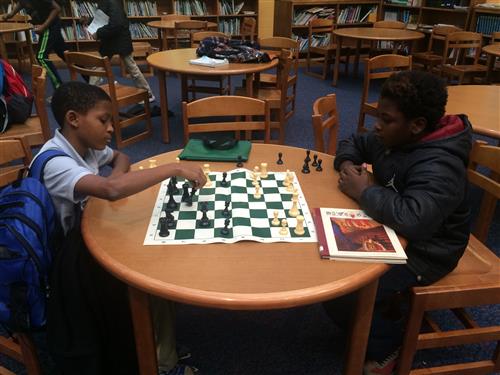 CMSD NEWS BUREAU
12/8/2015
The Boys and Girls Clubs of Greater Cleveland will open full-fledged clubs in two more CMSD schools, providing the students with constructive after-school options.
The clubs are to open Jan. 5 at Lincoln-West High School and Luis Muñoz Marin School, both on the West Side, and will offer academic, athletic and other programs five days a week after school.

The organization is shifting from freestanding locations to schools to serve more children while also limiting expenses. Other clubs have opened within the last three years at Franklin D. Roosevelt School in the Glenville neighborhood and Walton School in Clark-Fulton.

About a third of the nation's 4,000 Boys and Girls Clubs are in schools, said Ron Soeder, executive director of the Boys and Girls Clubs of Greater Cleveland. He said the CMSD clubs keep students safe and active in late afternoon or early evening hours when parents may be working.


The Luis Muñoz Marin club will get rent-free use of an old third-floor cafeteria that dates to the school's days as a junior high but more recently served as storage space.
Principal Ricardo Torres was excited by the chance to bring in the club, saying it would provide students with good role models and make them feel "more connected" to the school. He would like the club to operate before school as well, serving as an incentive that will strengthen attendance.
"It's just going to bring a whole other focus to the school," he said. "I jumped on it right away."
About 130 students participate in club activities every afternoon at Franklin D. Roosevelt, located on Linn Drive. They receive help with their homework, try their hands at musical instruments, engage in other arts, play video, card and board games or learn about money management. The Greater Cleveland Food Bank supplies meals, so the children have a chance to eat breakfast, lunch and dinner at FDR.
Malachi, 12, sat across a chessboard from another boy on a recent afternoon. He stays after school for daily for club activities, which benefit both him and his family.
"I can get help with my homework," he said. "Sometimes, my mom is at work. This is a place where I can stay until she picks me up."
The club, staffed by seven Boys and Girls Club, employees, has sole use of five rooms at the school and shares the gym and library. But occasionally kids go on field trips like recent outings to the Museum of Contemporary Art or the Rock and Roll Hall of Fame and Museum, where they met and performed with visiting singing legend Smokey Robinson.
"We try to get them out on field trips as much as possible so they see more than FDR and Linn Drive," club Director Will Irby said. "We keep them as busy as possible. When you're busy, you can't get in trouble."
The Boys and Girls Clubs of Greater Cleveland also plans to bring citizenship and character building programs to John Adams High School in the Mount Pleasant area. While not at the same level as a full-scale club, the program will put one or two of the organization's staff in the building every day, said Allen Smith, director of operations. He hopes to eventually base a club in the school.
Smith said the Boys and Girls Clubs will start a literacy program for children in kindergarten through third grade at Charles Dickens School, located on Corlett Avenue near John Adams. The organization recently launched literacy programs at three other East Side schools: Charles W. Eliot, Bolton and Mound.
The group offers athletics, academic help and other activities for middle-school-age students five afternoons a week at Michael R. White School, located on East 92nd Street near Rockefeller Park.