Return to Headlines
McDonald's owner donates 207 bikes to students (photo gallery)

CMSD NEWS BUREAU
12/18/2015

When former track star Herb Washington was a Major League Baseball player with the Oakland A's in the mid-1970s, he was known best for his world-class speed and stealing bases.
Since then, he has become the nation's most successful black franchisee for McDonald's,
operating more than two dozen restaurants in Northeast Ohio and Western Pennsylvania.
On Thursday, more than 200 Cleveland Metropolitan School District families got to know Washington as the man behind the first McMiracle with H.L.W. Fast Track Inc. -- #McMiracleCLE on Twitter -- or maybe just "the bike man."
Washington, 65, brought Ronald McDonald and an entourage of helpers with him to two District schools on Thursday afternoon and presented a total of 207 bikes to students from across the city who had dramatically improved their attendance from this time last school year. The bike giveaway was part of the District's
"Get To School. You Can Make it!"
campaign.
One student per grade in grades 6-8 at each of the District's K-8 or PreK-8 schools was selected at random from among more than 1,500 CMSD students. Last year at this time, the candidates were on course for missing more than 10 school days; so far this year, they have missed fewer than four days.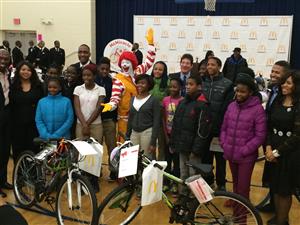 Ceremonies were held at Andrew J. Rickoff on the city's East Side and Paul L. Dunbar on the West Side. CMSD partners City Year Cleveland helped with the giveaway; Cleveland Councilman Zack Reed was at Rickoff and Councilman Matt Zone attended the Dunbar event.
"It is the hard work, support and love -- not only from your family, but from your extended family here at CMSD and the communities where you live – that help you make it happen," Zone told the students at Dunbar. "You can achieve anything with their help."
The students also received free helmets and a certificate for bike safety training from
Ohio City Bicycle Co-Op,
which had heard about the bike giveaway on social media and stepped in to sweeten the gift.
District Chief Executive Officer Eric Gordon told the crowd at Dunbar that the District's attendance campaign was making strides.
"When we started really looking at all of our academic data, it always came down to attendance," Gordon said. "You could just draw a line about who had been in school enough and who had not – and it came down to 10 days.
District data shows that students who miss 10 or more days in a year are 9 percent more likely not to meet Ohio's Third GradeReading Guarantee. They score 12 points lower on the state reading test and 15 points lower in math and are 34 percent less likely to graduate.
Gordon, Dunbar Principal Sofia Piperis and CMSD school board Member Lisa Thomas thanked Washington and the parents and guardians in the audience.
"Thank you for believing in public education for your child, thank you for believing in us and helping us to improve the Cleveland school system under the great leadership of Mr. Gordon," Thomas said. "Yes, you can make it -- not only in school, but in life."