Return to Headlines
Jane Addams students victorious in culinary, hospitality competitions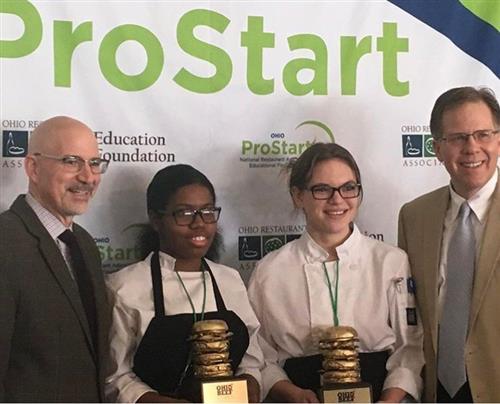 CMSD NEWS BUREAU
2/24/2017
Jane Addams Business Careers Center students have been showing off their competitive edge in recent months, with several students partcipating in and winning culinary and hospitality competitions in Ohio and nationally.
Most recently, the duo of seniors Kylie Scholle and Arianna Stormier (pictured above) took first place at the Burger Battle in Columbus last weekend. Each student won $250 in cash and an $8,000 college scholarship through the competition sponsored by ProStart and the Ohio Beef Council.
They battled against high school students from around the state to whip up the best burger, as judged by top industry professionals from restaurants including Wendy's, White Castle and Michael Symon restaurants.
Last fall, six other Jane Addams students put their skills to the test on a national level. The students headed to Orlando last fall for the 2016 Family, Career and Community Leaders of America national meeting and competition, where they showed off their chops in the culinary arts and hospitality industries.
Competing with students from across the country, Diamond Adams won first place in the tourism and recreation challenge; Jonathan Gardner took second place in the culinary arts competition.
In addition, Hope Williams had the chance to compete in an impromptu public-speaking contest, and the trio of Timothy Hunter, Delonna Childs and Imari Rivers took part in the culinary knife skills competition.
"This was an awesome experience for our students academically, socially and professionally," said Sophronia Hairston, who leads one of the academies at Jane Addams. "This experience boosted their self-esteem, self-awareness and their confidence to compete on the national, state and regional levels."
Hairston and another Jane Addams teacher served as judges for some of the other events at the competition. Hairston said the experience gave her insight and ideas for refining some of the programs at Jane Addams.
Students said they returned to Cleveland motivated to keep working on their education and excited for future competitions.
"The trip was a wonderful experience to travel away from home," said Timothy Hunter. "I am truly grateful for this life-changing opportunity to compete and travel."