Return to Headlines
Facing History student's film premieres at CIFF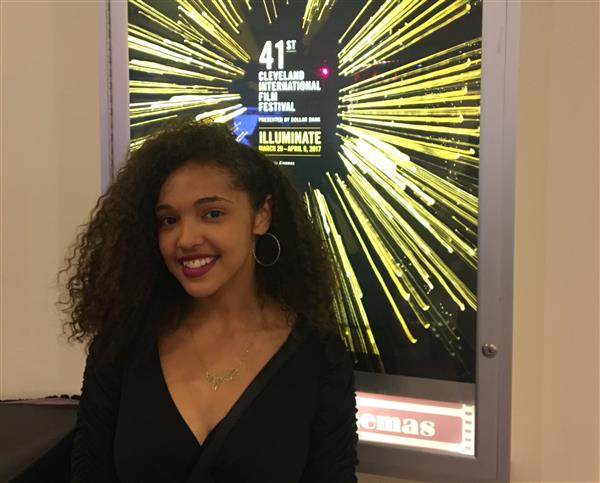 CMSD NEWS BUREAU
4/7/2017
It was a big night for Mayraleeh Nelson. The Facing History New Tech High School senior had been to the Cleveland International Film Festival on school field trips, but tonight was different. Tonight, she was there to see her own writing come to life on screen as one of over 400 films from 71 countries showing at the
nationally recognized film festival.
"It's still a little surreal," Nelson said in an interview before the Tuesday night premiere. "The idea of winning the contest and having the opportunity for it to be made into a movie was surreal, right? And now being here, it's still not really clicking in my head yet. But it's really cool."
Nelson was surrounded by family and friends as she watched the Tower City Cinemas theater fill up for the premiere of the short film "Split Persona." Among those in attendance was District CEO Eric Gordon, who snapped a photo with Nelson before he introduced the film to the packed crowd.
Gordon spoke highly of Scenarios USA, the organization that chose Nelson's film and brought in all the directors, producers and camera crew members who made it happen.
Scenarios USA uses writing and film to help youths express their views on social justice, identity and health. Gordon, who said he has been working with the organization since before it came to Cleveland five years ago, called it "an incredibly rich educational experience."
"It is not simply a competition where students have an opportunity to become playwrights; it is rich curricula wrapped around social and emotional learning and development, something very important to us here in Cleveland schools," Gordon said.
Nelson and her classmates at Facing History went through the Scenarios USA "REAL DEAL" educational programs, which include curricula aligned with the Common Core State Standards, professional development and a series of short films that aim to help students analyze social norms – especially those at the intersection of race, class and gender – that shape their identity. The "REAL DEAL" cycle culminates in the writing contest.
Nelson's film will become part of the lesson plans in the next curriculum, spreading her message to hundreds of thousands of other students.
"Split Persona" follows the lives of fictional twin sisters who are struggling to balance the social and academic pressures of adolescence while their mother suffers from suicidal depression. The illness becomes a backdrop to their teenage experience and causes tension in the twins' relationships with friends, family and each other.
Nelson said she wrote the film to open up a dialogue about mental illness in hopes of breaking through the stigma that often surrounds it.
"What I want people to take away from the story is that you don't ever know what's going on in people's lives," Nelson said in a previous interview. "We as a society should never assume that a child's life is perfect."
Those conversations started quicker than Nelson might have expected, with a panel discussion about mental illness that took place directly after the premiere. The panel was moderated by Mark Swaim-Fox, executive director of the Cleveland office of Facing History and Ourselves, and included several mental health experts from places like the Positive Education Program, Bellfaire JCB and a local VA medical center.
Swaim-Fox was part of the team that launched and designed the curriculum for Facing History New Tech High School. He thanked Nelson and the Scenarios USA crew for creating the film.
"I think it's a powerful reminder of what students walk into school every day with, that we need to pay attention to," he said.
Nelson wasn't the only one who found herself in the spotlight. Most of the actors in the film were from Cleveland-area schools and the role of the mother was played by Mayraleeh's own mom.
The lead actresses, twins Arianna and Alyanna Reyes, were honored with an award. The two James Ford Rhodes ninth-graders received the inaugural Ryan Rex Award from the family of Ryan Rex, who made his acting debut in a Scenarios film in 2013, and later died of suicide.
The family and Scenarios USA created the Ryan Rex Award for the most promising actor in the Cleveland Scenarios USA film. While they usually give out only one, they made an exception this year for the Reyes twins. The award comes with free acting classes and the opportunity to get head shots taken by a professional photographer.
While there was only one showing of "Split Persona" at CIFF, the film will air on SHOWTIME this summer on as yet unannounced dates and times.