Return to Headlines
United Arab Emirates embassy donates soccer field
CMSD NEWS BUREAU
5/15/2017
The United Arab Emirates' embassy in Washington has partnered with the Cleveland Clinic Foundation to donate a soccer field to Franklin D. Roosevelt School.
The field, which will be dedicated in a ceremony at 9:30 a.m. on Friday, is part of the embassy's nationwide community soccer field program, which provides quality playing fields in underserved communities around the country.
"We are grateful for this generous gift," said Eric Gordon, CMSD's chief executive officer. "In addition to health benefits, sports help children develop resilience, teamwork, communication and other skills needed to succeed in school and life. And, along with the Boys & Girls Club already located at Franklin D. Roosevelt, the field will help solidify the school's role as a neighborhood hub and make it a place where they enjoy coming each day."
Yousef Al Otaiba, the United Arab Emirates ambassador to the United States, helped to launch the program in 2010. The embassy has installed fields in Dallas, Washington, D.C., Miami, Los Angeles, New York City, Chicago and Atlantic City.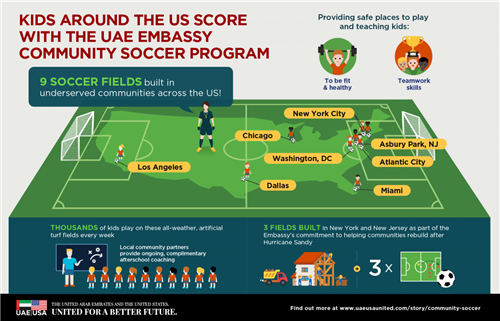 The embassy chose Cleveland to receive the 10th field because of a close connection with the Cleveland Clinic, which opened a hospital two years ago in Abu Dhabi, the United Arab Emirates' second largest city. The Cleveland Clinic Foundation partnered with the embassy to identify a site for the field and helped with the installation.
The field is officially named the Glenville Community Soccer Field and is meant to be used by the school and the surrounding Glenville neighborhood. The surface is made with an organic cork infill that offers benefits like heat reduction, UV resistance and resilience.
Al Otaiba and representatives from the embassy chose FDR during a visit to Cleveland in 2016, a Cleveland Clinic spokesperson said. They picked FDR because of the poverty affecting many of the neighborhood's residents and to support existing programs at FDR, including the Boys & Girls Club and the
America SCORES
soccer and poetry program.
Al Otaiba is expected to attend the unveiling ceremony along with several local civic and business leaders including Cleveland Clinic CEO Toby Cosgrove.