Return to Headlines
Fair draws high school shoppers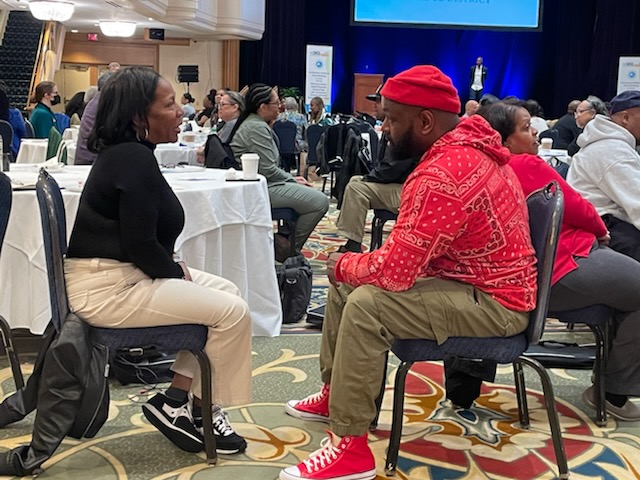 CMSD NEWS BUREAU
2/2/2017
Once a year, the concourse at Cleveland State University's Wolstein Center is turned into a shopping mall lined with booths representing CMSD's growing list of high school options.
Eighth-graders roamed the concourse with classmates Wednesday during the day. Students and parents visited for two hours during the evening.
"We're browsing, taking in everything, seeing what's appealing" said James Ealey Sr., whose son, Oliver H. Perry eighth-grader James Jr., had taken a look at the high school in his neighborhood, New Tech Collinwood, but was keeping his options open. "Every school has its own unique curriculum."
CMSD's portfolio includes schools centered on the arts, medicine, information technology, early-college studies and much more. New next school year will be Davis Aerospace & Maritime High School, Campus International High School, Bard High School Early College Cleveland East Campus, John Adams College and Career Academy, Rhodes School of Environmental Studies and Rhodes College and Career Academy.
PHASTAR President Drew Ferguson, whose nonprofit will oversee the aerospace and maritime school's specialty programming, generated traffic by letting students fly a drone or steer a ship via video simulator. He said 100 students who stopped during the day had made the downtown school one of their top three selections.
Linda Vasquez and her son, Connor, an eighth-grader at Case School, were checking out Davis A&M and the Cleveland High School for Digital Arts. One school could feed Connor's interest in video-game design, the other his curiosity about being a maritime pilot.
Linda appreciates CMSD's development of a "portfolio district" with an array of models that lets students find the right fit and receive a preview of possible careers.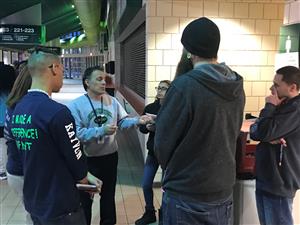 "I think it's a great opportunity for the kids to focus on the future and get an idea of what their path looks like post-high school," she said. "It's better to start early than wait until 12th grade."
New Tech West Principal Neil Murphy said he had spoken to a mother who was thinking of moving out of Cleveland now that her eighth-grader is set to enter high school. The fair caused the family to reconsider, he said.
"They said they were blown away by the number of choices CMSD offers," he said. "Those were her words."
More eighth-graders will visit during school hours Monday and Tuesday. Visits planned for those days this week were canceled because of snow.
CMSD's open-enrollment period will continue through March 13. The deadline for most schools with admissions criteria is Feb. 13.
Students can make choices after the deadline but might not be assured of getting their first pick. If demand exceeds capacity at a school, a lottery will be held and results will be announced March 24.
To enroll, go to
chooseCMSD.org
or use the enroll option on the District's app. To download the free app, go to the Apple or Google app stores and search for CLE Metro SD.