Return to Headlines
District commits to supporting refugee students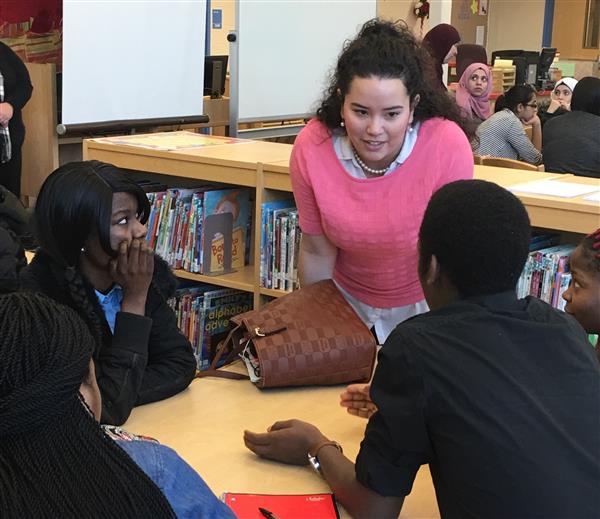 CMSD NEWS BUREAU
2/10/2017
In the library at Thomas Jefferson International Newcomers Academy, more than 50 students crowded around tables, each straining to listen to six translators repeating in Arabic, French, Swahili, Mandarin, Spanish or Nepali the words of immigration attorney Cassandra Manna.
It was Monday morning, 10 days after President Donald Trump signed an executive order that barred refugees and citizens of seven countries from entering the United States. Manna (pictured above with students) was there to discuss the implications of the travel ban with these high school students, all of whom are refugees.
This discussion is one way that Thomas Jefferson and several District departments are supporting refugee and immigrant students at a time when, according to teachers and administrators, many of them fear they will be sent back to the countries they fled or separated from their families.
The ban directly affected several students at the school, including a Muslim student who was stopped at John F. Kennedy International Airport in New York City on Jan. 28. While a federal court has temporarily halted the executive order and a federal appeals panel refused to reinstate it, much uncertainty remains.
District CEO Eric Gordon has sent a districtwide message reaffirming CMSD's commitment to providing a welcoming and inclusive school environment.
"Cleveland has a longstanding tradition of embracing newcomers to our country and community, and we must remain collectively committed to preserving the dignity and rights of our scholars, families and caregivers and our fellow educators," he said. "I want you all to know that I strongly support the right of all of our scholars to seek their education in CMSD."
Thomas Jefferson International Newcomers Academy was founded to help international students from preschool to 12th grade adjust to a new life and currently has about 850 students, 569 of whom are refugees.
Supporting and empowering refugees is the norm at Thomas Jefferson. Posters created by students hang in teacher Terrance Barry's classroom, declaring, "Our doors are open to refugees" and "Proud to protect refugees." And the posters were not a response to the executive order -- the students' work had already been up for months.
Manna, the immigration lawyer, has gotten to know some students through her many visits to Barry's American government class over the past few months, where the attorney often serves as a guest lecturer.
"I really want them to know that there are more people in their community that support them than people that want them to leave the United States," she said. "The negativity they see on the news is not all that there is. There are people here willing to fight for them to make sure they're safe and that they stay."
During the assembly in the library, Manna explained to a group of over 50 high school students how the travel ban could affect them and their families if it goes back into effect. She urged them not to leave the United States, even to visit their home countries, until the legal battle is resolved. If they must travel, she said, they should not sign any forms before speaking to an immigration attorney.
Students also had an opportunity to ask questions, including whether their family members with valid visas or green cards who are currently abroad will be able to come back into the United States. They can return, Manna said.
One teacher asked whether her students who came to Cleveland from Kuwait and Saudi Arabia to get medical treatment could stay here. Manna said current policy allowed them to stay, as those countries were not included in the order.
Before she left, Manna gave each student a list of phone numbers for Legal Aid, which offers free assistance on immigration law problems in eight languages.
"I know a lot of you are nervous or scared about what it means and how it affects you," Manna told the students. "I'm here to tell you that you are here legally, meaning you are allowed to be here. Nobody is going to come into your house and make you leave. You're OK. You're safe."
Student faces traveling scare
For one student in the crowd, the implications of the travel ban have already become real. Tenth-grader Ruba Mohammed said she was traveling back to Cleveland from her home country of Iraq on Jan. 28, the day after the executive order was signed, when she was detained at the airport.
Mohammed had been visiting Iraq because her father died there while on a visit, she said. Her trip back to the United States made for a long day of travel, flying from Iraq to Jordan to John F. Kennedy International Airport in New York City. There, she was supposed to board a flight to take her home to Cleveland.
Instead, airport immigration officials detained and questioned her for about two hours, she said. They confiscated her phone, looked through her social media accounts and messages and prohibited her from using her phone to call home.
Mohammed was released after she showed the official her father's obituary as proof that she was telling the truth about her travel, she said. By that time, her connecting flight to Cleveland had left. She was issued another ticket for a flight the following day. Unable to afford a hotel, Mohammed slept in the airport that night. She returned home to Cleveland safely the next day.
Mohammed said the experience left her a little bit shaken, and she felt that her privacy was violated when the official looked through her phone. She said she hopes that the president will change his mind so that other people fleeing war and violence can find a better life in the United States.
"All Americans immigrants coming from another country," she said. "People come here to have a better life."
Mohammed's journey to Cleveland was not easy. She was born in Iraq and her family fled to Syria in 2004 due to the war. Ten years later, war broke out in Syria and her family applied to come to the United States. In the meantime, they went back to Iraq. In 2015, she, her parents, two brothers and sister were granted entry to the United States.
Mohammed says she loves this country for the safety and opportunities it offers her and her family. She likes Thomas Jefferson International Newcomers Academy because the teachers help her improve her English and genuinely care about her, she said. She takes comfort in support she gets from both her guidance counselor and Principal Marisol Burgos, who often tells the students that she cares for them like they are her own children.
Mohammed wants to stay in this country, become a citizen and go to college to study to become an engineer or a lawyer.
"I want to help people who are in trouble," she said.