Return to Headlines
Facing History students come 'Face to Face' with Holocaust survivor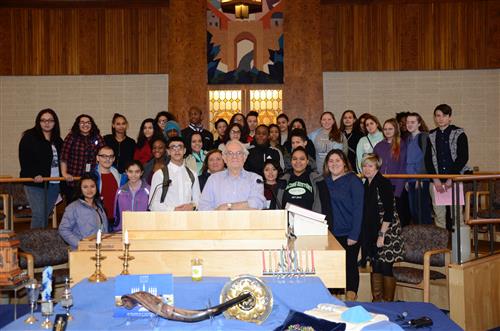 CMSD NEWS BUREAU
2/15/2017
It's one thing to read books and view photos of the horrors Jewish people experienced during the Holocaust; it's another to hear the testimony of someone who survived them.
Facing History New Tech students listened this week to the firsthand account of 88-year-old Albert Hersh, a Jewish man who was sent to the Auschwitz concentration camp at age 14. The 35 students, a mix of freshmen and seniors, had the chance to ask Hersh questions, take a photo with him, and for those who were particularly touched by his story, ask for a handshake or a hug.
Hersh's presentation was part of the "Face to Face" program through the Congregation Shaarey Tikvah synagogue in Beachwood that aims to introduce middle and high school students to the Holocaust and teach them tolerance.
"We try to to emphasize the choices that people made during the Holocaust and the choices that people make today, good and bad, that affect others," said Louise K. Freilich, the program's director.
Rabbi Matthew Eisenberg from Temple Israel Ner Tamid in Mayfield Heights kicked off the morning by introducing students to Judaism and providing context for learning about the Holocaust.
"We want them to know that Judaism is a living religion, that Hitler didn't succeed fully in his mission to kill all Jewish people," Freilich said. "We want them to know, for instance, what the Torah is, because how can you understand the desecration of the Torah if you don't know what a Torah is?"
The students also explored the synagogue's museum alongside volunteers who are experts on various aspects of the Holocaust, including one man who was living in Nazi-occupied territory during Kristallnacht, a wave of attacks on Jewish synagogues, homes and businesses in 1938.
Perhaps the most moving part was the hour the students spent with the Auschwitz survivor, Hersh, as he told his story. Hersh described in detail what life was like before his family was taken from their home in then-Czechoslovakia, how he was separated from his sisters and mother -- who later died in the camp -- without getting to say goodbye, and how he spent each day in Auschwitz praying to stay alive for the next second, minute, hour and day.
Hersh, who said he changed his first name from Adolf to Albert to shirk any connection to Hitler, lost most of his immediate and extended family during the Holocaust and was one of 24 people from his hometown of 122 to survive.
At one point, Hersh rolled up his sleeve to show the students the faded number 7631 that the Nazis tattooed on his arm as his assigned identity in the camp. He pointed to his brother Ted, who was sitting behind the students, and said Ted had 7630 inked on his own arm.
Hersh told the students that one of the reasons he feels it's important to share his experience is to shed light on those who risked their own lives to help Jewish people during the Holocaust. He spoke of a German farming family who hid his older brother in a chicken coop after he escaped the concentration camp.
He encouraged the students to summon the same kind of courage by speaking up and taking action if they witness injustice in their own lives.
"It is you who can make our world a better and more peaceful place," Hersh said.
Students said the experience was an unforgettable lesson in human rights and compassion.
"It was so inspiring to see that he can still care about people after what happened to him," ninth-grader Denver Pruitt said.
Senior Nina Harris called it the best experience of her life.
"It was so sad hearing him talk about surviving the concentration camps and seeing how emotional he got, but it showed that everyone needs to be treated equally because we are all the same," Harris said.
Martha Verde, who teaches a class that introduces freshmen to the Facing History philosophy and the senior capstone course, said the goals of the Face to Face program are in line with the values of the school, which focuses on social justice and diversity.
"We want them to learn about the Holocaust, not as a historical event but as a human event and a human rights violation," Verde said.
It also served as an introduction to the Holocaust, which ninth-graders will study in-depth in the coming weeks, she said.
Ninth-graders from another CMSD high school, New Tech East, will attend the "Face to Face" program next week.
The synagogue granted scholarships to both schools to cover the visits, which would normally cost $9 per student.
View the gallery below for more photos from Facing History's trip.