Return to Headlines
John Marshall IT gives lawyers tech support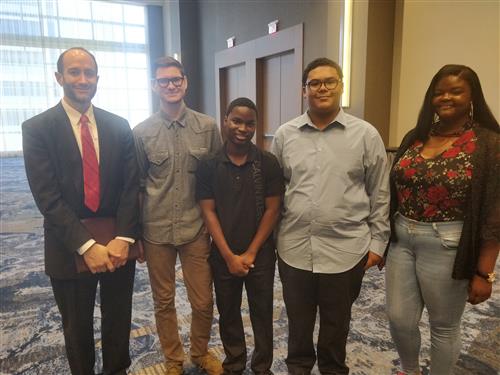 From left, attorney J. Philip Calabrese, Tech Corps instructor David Kelly and John Marshall School of Information Technology students Devon Harris, Jonah Medina and Nadia Triggs. Calabrese is immediate past president of the Federal Bar Association's Northern District of Ohio Chapter.
CMSD NEWS BUREAU
10/9/2018
Lawyers who practice in Cleveland's federal court came together for a big annual event Tuesday, and their agenda showcased work by students from the John Marshall School of Information Technology.
Seven students spent virtually all of last school year upgrading the website used by the Federal Bar Association's Northern District of Ohio Chapter and linking it to an app that made the site mobile friendly. The FBA, which has more than 500 members, rolled out the work Tuesday during its annual State of the Court luncheon at the downtown Hilton hotel.
The chapter contacted Principal Chelsey Cook after hearing about John Marshall IT, which opened in 2015 as the first school in the state with a focus on computer science. Rather than hire a private company, the organization opted to give the students some paid on-the-job experience.
"The kids did great," said Immediate Past President J. Philip Calabrese, who made several visits to the school during the project to give the students feedback. "They invested a lot of time. They had a lot of ideas."
Four team members – Katie Ayala, Liban Abdi, Hajar Rouiha and Siera Rivera – have graduated and gone on to college. Seniors Nadia Triggs and Devon Harris and junior Jonah Medina remain at the school and attended the luncheon.
Meet the website development team.
The crew labored three hours after school, two days a week, from October through May. They received guidance from instructor David Kelly of Tech Corps, which works with K-12 schools and students to integrate and use technology.
Devon started out as a content manager, deciding what went where on the website, and later moved to a design role, choosing colors, fonts and photos. He wants to pursue a career in video game design.
"I'm a huge computer freak," he said.
Jonah served as a developer, formatting, debugging and repairing the website. He also aspires to a career in game design, saying he enjoys the "creative aspect of it" and the opportunity to "make anything I want."
As the school's community and business coordinator, Krystle Rivera works with students on internships and selecting one of its three pathways: cyber security, software development and health IT.
Rivera described the students as funny and a "ball of personality." She credited them for balancing the project with Advanced Placement classes, sports and part-time jobs.
Nadia, who is president of her senior class, said the team frequently engaged in give-and-take with the bar association. She said the experience taught her lessons in time management and meeting deadlines while also feeding her interest in computer science.
"I realized I have potential in IT," she said. "When I get older, I want to pursue this."
Have a story idea for the CMSD News Bureau? Email it to newstips@clevelandmetroschools.org.