Return to Headlines
Summits show students how to curb bullying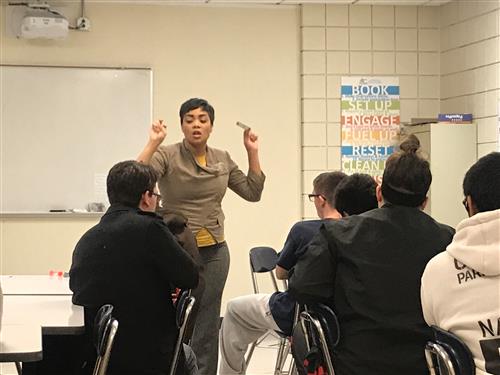 Mental health counselor Courtney Hauser talks to high school students, encouraging them to pause and think before they make unkind comments to classmates.
CMSD NEWS BUREAU
11/2/2018
Hundreds of CMSD students crowded into workshops this week and learned that the solution to bullying starts with them, their choices and simple steps like watching what they say to others.
Back-to-back summits at the District's East Professional Center – Thursday for sixth- through eighth-graders and Friday for high school students – emphasized personal improvement, empathy and impulse control. Edward "DJ Phatty" Banks and other facilitators led the summits, which are now in their fourth year.
Banks, who has participated in the summits since the beginning, stresses awareness of what constitutes bullying and techniques students can use to deal with it.
Mental health counselor Courtney Hauser, who led one of the workshops, told students to pause and think before they comment on a peer's clothes or hygiene, noting that homelessness or general financial hardship may be the cause. She said she works regularly with adults who still struggle with unkind remarks made to them in school years ago.
"There is so much power in your words," she said. "We have no idea of the impact that our words are having on someone else."
Stories that the students submit will become part of a book built around the theme of this year's summits, "Changing the Narrative."
Shamia, a ninth-grader at Jane Addams Business Careers Center, said she endured some bullying before entering high school. She saw the workshops as a way to build respect among students and help them gain confidence.
"I will share what I learned today," she said. "And if I see someone being bullied, I will stand up for them."
Thursday's summit drew about 300 students from middle grades and Friday's attracted more than 150 high school students. Many of the students participate in Not on Our Watch, or NOW, an anti-bullying program offered by District schools.
NOW and the summits are part of CMSD's sweeping Humanware program, a nationally recognized model that promotes social and emotional learning, starting in preschool.
Have a story idea for the CMSD News Bureau? Email it to newstips@clevelandmetroschools.org.