Return to Headlines
Joseph Gallagher School rules the chessboard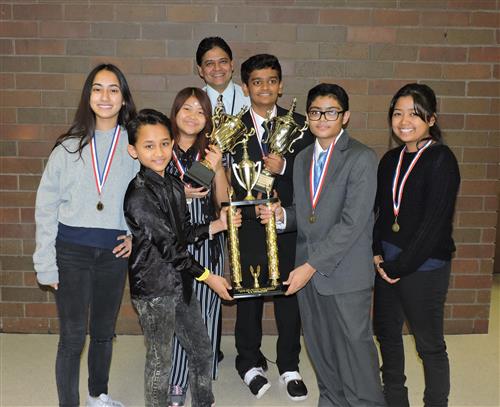 CMSD NEWS BUREAU
12/3/2018
The chess team at Joseph M. Gallagher PreK-8 School makes a lot of smart moves.
The powerhouse, which currently has a core group of nine sixth-, seventh- and eighth-graders, has won five straight CMSD titles and gone 57-0 in matches within the District over the last two years.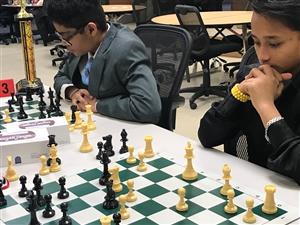 In November, eighth-graders won a grade-level title in a tournament that drew 300 K-12 players from around the state to Rocky River High School. The team had earlier won a Greater Cleveland Scholastic Chess League tournament for the first time in the school's long history with the game.
Gallagher does not offer an after-school chess program. Players slip in practice during lunch and gather away from school, including weekends, throughout the year, coach Ahmit Ghose said.
"It's a lot of practice, hard work and sacrifice," said Ghose, who is also a bilingual instructor in Asian languages at the school. "But they love chess."
Some of the players are beginners. Ghose's top performer, Akshar Patel, has the most experience, two years.
Seventh-grader Reyosh Biswakarma and eighth-grader Nouh Shaikh said they play 10 to 15 chess matches a day. The boys finish each other's thoughts as they explain their enthusiasm for the game.
"It gets your mind working," said Reyosh. Nouh added: "It's a challenging game. It helps us in life – to focus on our goals."
Sunita Magar said Ghose emphasizes life lessons that can be discovered in chess. She said the game has taught her many things that she can apply away from the chessboard.
"You have to make every choice carefully," she said. "There are consequences, good and bad."
Other team members include sixth-grader Nuna Rai and eighth-graders Ritu Limbu, Oma Dahal, Arpan Rai and Binita Biswa.
Chess is popular across the District. This year, CMSD had 69 chess players on 11 PreK-8 school teams and 25 players on five high school teams.
Have a story idea for the CMSD News Bureau? Email it to newstips@clevelandmetroschools.org.