Return to Headlines
Speaker helps educators work with males of color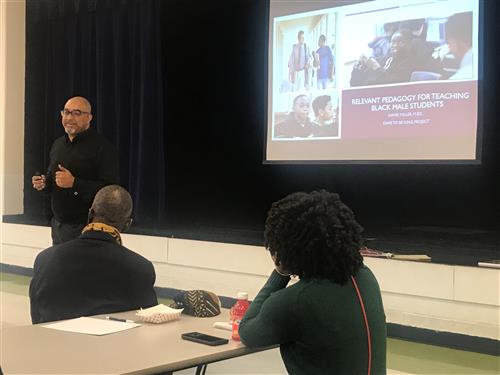 CMSD NEWS BUREAU
1/9/2019
Speaker David Miller spent Monday and Tuesday in the District, building bridges that connect teachers and schools with young males of color and their parents.
On Monday, a districtwide professional development day, Miller was at Daniel E. Morgan PreK-8 School, talking about culturally relevant teaching with school faculty and District "linkage coordinators." Through CMSD's Closing the Achievement Gap program, the coordinators work with eighth- and ninth-grade students considered to be at risk of failure.
Miller founded the Dare to Be King Project, which assists organizations that work with young males of color. He also developed a curriculum -- "Dare to Be King: What If the Prince Lives. A Survival Workbook for African American Males" -- that teaches adolescent males how to "survive and thrive in toxic environments."
In talking with educators, he says he tries to acknowledge and celebrate their contributions while stressing the importance of unconditional love for students and understanding the challenges and trauma they experience away from school.
He said he speaks from experience, having watched a good friend die after being shot by a robber. And though he came from a two-parent household and his mother was a teacher, he felt disconnected from school.
"We can't educate children today the same way we would 50 years ago," he told the group. "I know you're doing good work. Good isn't the gold standard anymore. We have to move toward excellence."
The audience broke up into small groups, discussing questions such as how they deal with any anxiety they might face in teaching young black males and how the educators address issues of race, equity and social justice in their classrooms.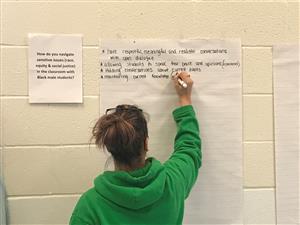 Daniel E. Morgan Principal Dessie Sanders said the training could help her mostly white and suburban faculty gain a sense of the social issues in their students' lives and find ways to connect and show they care.
On Tuesday, Miller spoke at the East Professional Center to middle and high school-age students from various schools. He talked about how to deal with law enforcement and emphasized the need to show respect when stopped by police.
He met Tuesday night with Daniel E. Morgan parents, focusing on the need for them to develop relationships with their children's teachers, even when that is difficult, and stay involved, even when a child leaves elementary school and may seem more capable.
"Parents think high school students can handle themselves – they need us more," he said. "My son is a freshman in college. He needs me more than he did in the third grade."
Have a story idea for the CMSD News Bureau? Email it to newstips@clevelandmetroschools.org.