Return to Headlines
True2U gives 8th-graders sendoff to high school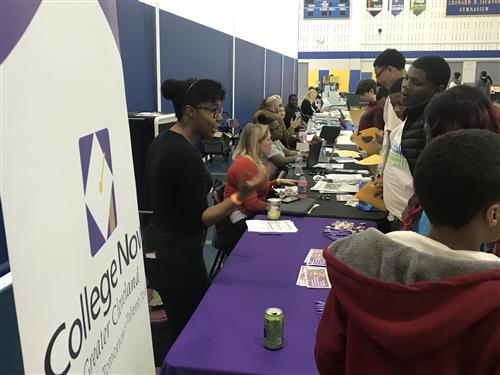 CMSD NEWS BUREAU
5/8/2019
More than 2,000 eighth-graders are getting a send-off to high school this week with celebrations at the East Professional Center.
Separate groups are visiting during school hours Wednesday through Friday to mark the end of a year in True2U, a mentoring program designed to prepare them for the transition.
The students continued to get ready for the pivotal move by eating lunch at the event with current freshmen and sophomores who told them what to expect next school year. They also received information on nearly 20 summer programs for new high school students.
The celebrations feature rap artist Dee-1, a former middle school teacher who seeks to inspire youth. His message to the eighth-graders: Don't become so obsessed with fitting in that it interferes with your success.
"Nobody wants to be an outcast; nobody wants to be alone all the time," he told students Wednesday. "But you have some real hard decisions to make."
Families were invited to come to East Professional Center for an evening program Thursday, and more than 300 signed up.
Under True2, volunteer mentors from the community work with the eighth-graders one day a month, talking with them in small groups about choosing the right high school and exploring college or career options.
True2U was launched in 2015 and expanded over the next two years to reach all eighth-graders, When the program began, less than half of the eighth-graders chose their high schools, an option provided under The Cleveland Plan, a customized blueprint for education reform. So far this year, 80 percent have exercised that right.
Mentors follow a curriculum based on Stedman Graham's "Nine Step Success Process" identity development model. They facilitate games, activities, discussions and reflection.
True2U is a partnership between CMSD, MyCom, the Neighborhood Leadership Institute, the Greater Cleveland Partnership and the Greater Cleveland Faith-Based Initiative.
To apply to be a mentor, go to true2umentor.org.